Hong Kong tourist slightly injured in terrorist attack in Barcelona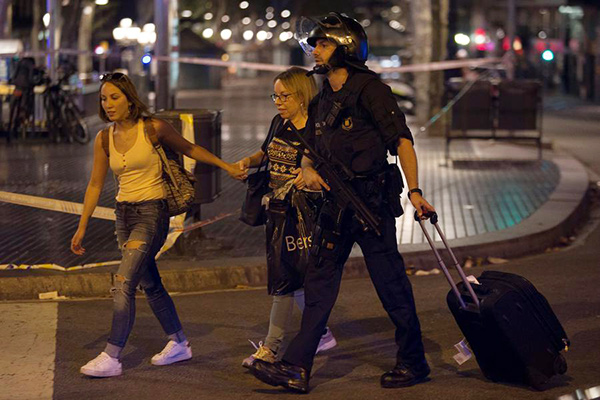 Police evacuate people after a van crashed into pedestrians near the Las Ramblas avenue in central Barcelona, Spain, Aug 17, 2017. [Photo/Agencies]
MADRID - A Hong Kong tourist was slightly injured in the terrorist attack on Thursday afternoon in Barcelona, said the Consulate General of China in Barcelona.
Except this case of injury, no other Chinese citizens were reported to be the victims of the attack, the consulate said in a statement posted on its website late Thursday.
Some 13 people were killed and 80 injured after a van rammed into crowds along Las Ramblas, the famous street in the center of Barcelona on Thursday afternoon.
The consulate said that all Chinese citizens were advised not to approach the area where the attack happened and those who were close to the area should keep calm and follow police's instructions.
It also published the phone number through which Chinese citizens, if under any emergency, can get in touch with the consulate general. The number is 0034-688306666.
They could also seek help through the global emergency hotlines of the Ministry of Foreign Affairs of China: 0086-10-12308, or 0086-10-59913991.