Barcelona defiant after attack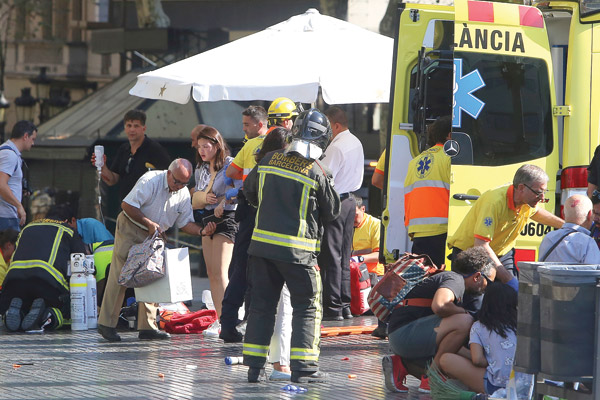 Injured people are treated in Barcelona, Spain, on Thursday, after a white van jumped the sidewalk in the historic Las Ramblas district, crashing into a summer crowd of residents and tourists and injuring dozens people. [Photo/Agencies]
Police arrested one man last night after at least 13 people were killed when a van ploughed into Barcelona's busiest tourist street, Las Ramblas, in what authorities are calling a terrorist attack.
The van drove for around 500 metres before it came to a stop. Police were last night continuing to search for other possible suspects.
They said at least 50 more were injured.
Hundreds of people were stuck in shops, bars and homes as police searched the area amid conflicting reports of hostages, shoot outs and secondary vehicles.
Las Ramblas is a wide boulevard with a central walkway as well as two pavements at the side of the road. It is full of terrace cafes, restaurants and hotels.
No group had claimed responsibility by yesterday evening but the attack was similar to two attacks in London and attacks in Berlin and Nice. Websites connected to ISIS celebrated the Barcelona attack but no official site claimed responsibility.
A spokesman for the first minister of Barcelona, Artur Mas, tweeted an image of a Catalan flag superimposed with a black ribbon and the slogan: "We are stronger and we will win because our values are stronger and are winners. Stay strong Barcelona, visca Catalunya!"
European leader offered sympathy and support to the people of Barcelona.
Contact the writer at boleung@mail.chinadailyuk.com