Manhunt underway in Barcelona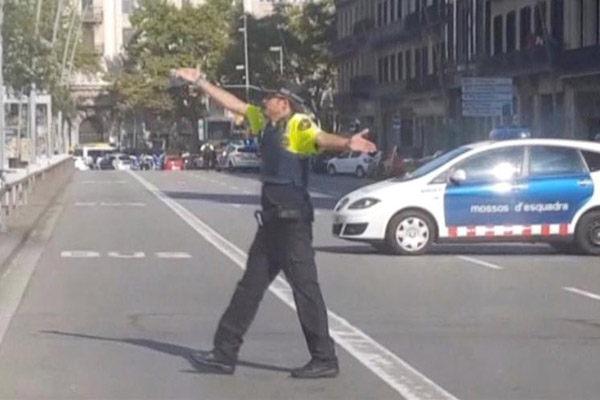 A still image from video shows a police officer gesturing while walking across a road, after a van crashed into people in the centre of Barcelona, Spain, Aug 17, 2017. [Photo/Agencies]
A manhunt is underway after a van ploughed into a crowd of people in Barcelona's busy tourist area, in what local police are calling a terrorist attack.
Police have confirmed that one person has died and that 32 people have been injured, 10 of them seriously.
According to early reports, a white van sped from the Placa Catalunya down the Las Ramblas thoroughfare which has pedestrian areas on each side of the street and in the middle. Dozens of pedestrians were hit until the van hit a newspaper kiosk and stopped.
Catalan police say there's an operation underway to search for the driver and urged people not to get close to the affected area.
Unconfirmed reports say that suspects have taken refuge in a restaurant.
The Spanish Prime Minister Mariano Rajoy said he has been in contact with authorities after the incident and said the priority is to attend to the wounded.
The Ministry of the Interior in Spain said on Twitter: "There has just been a massive crash on the Ramblas in Barcelona by a person with a van. There are injured."
Carles Puigdement, the president of the government of Catalonia, has called for "maximum caution" in the wake of the terrorist van attack in Barcelona.
He added that "all the attention" should be on the victims of the attack.
Reuters reported that Catalan emergency services have requested the closure of metro and train stations in the vicinity of the incident.
The Spanish newspaper El Pais, citing police sources, said the driver of the vehicle fled on foot.
The US Consulate in Barcelona tweeted "We are aware of a reported incident at Las Ramblas in Barcelona. Please avoid the area and monitor local police @mossos for updates".
Police in Barcelona have asked people around Plaça Catalunya to stay indoors and to use social media to get in touch with friends and relatives to avoid overloading phone networks.