Sierra Leone President declares national mourning for mudslide victims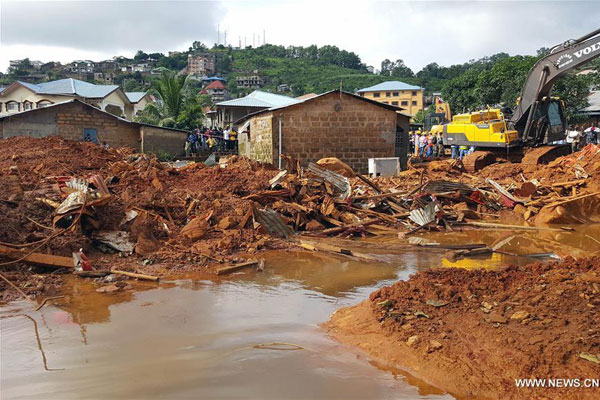 Photo taken on Aug 15, 2017 shows the mudslide site in Freetown, Sierra Leone. [Photo/Xinhua]
FREETOWN - Sierra Leone's President Ernest Bai Koroma has declared seven days of mourning across the country with immediate effect.
The president made the announcement through national TV, the Sierra Leone Broadcasting Corporation on Tuesday after a devastating mudslide early Monday killed nearly 300 people on the outskirts of capital city Freetown.
According to a statement from the Office of the President, the national mourning will start from Aug 16 to Aug 22, during which period all flags would be flown at half mast.
The general public is also requested to observe a minute of silence at 12 midday on Wednesday, the statement said.
"The President has further decided to invoke MAC-C (Military Aid to Civil Community) and to raise the national security threat level to level 3 in direct response to the unfolding emergency situation," the statement said.
The government also requests bereaved families to continue to identify their fallen loved ones at the Connaught Hospital Mortuary between 9 am and 5 pm Wednesday at the mortuary where they will be advised on the burial procedure, according to the statement.
It said that unidentified corpses will be given dignified burial at Waterloo between Aug 17 and Aug 18.
It added that the government will continue to provide the public with regular updates on the situation.
Deputy Minister of Information and Communication, Hon. Cornnelius Deveaux told journalists earlier Tuesday in an emergency press briefing that the total number of deaths reported at the Connaught Hospital is 297, including 109 children, 83 women and 105 men.
He said the search to identify corpses and possible survivors is still in progress as hundreds more are feared to remain missing after the mudslide hit.