Barcelona pay tribute to Chapecoense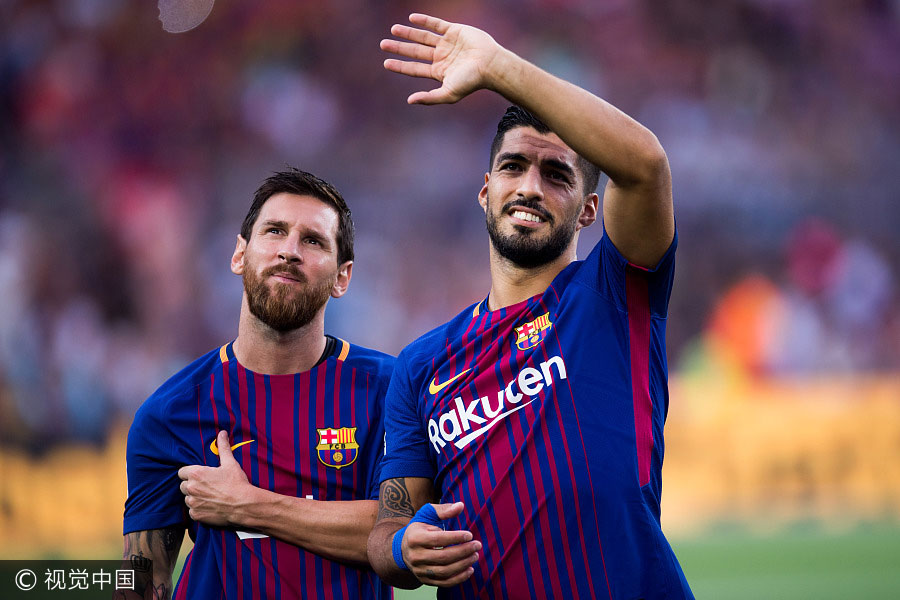 Lionel Messi and Luis Suarez of FC Barcelona look to the stands before the Joan Gamper Trophy match between FC Barcelona and Chapecoense at Camp Nou stadium on August 7, 2017 in Barcelona, Spain. [Photo/VCG]
BARCELONA - Barcelona's traditional curtain-raiser, the Joan Gamper Trophy, took on emotional significance with the visit on Monday of Chapecoense, the Brazilian team who lost most of their playing and coaching staff in an air crash last year.
The plane carrying Chapecoense to the Copa Sudamericana final, first leg against Atletico Nacional crashed into mountains outside Medellin, Colombia on Nov 28 after running out of fuel, killing 71 of the 77 people on board.
Barca invited Chapecoense to contest the traditional friendly, named after the club's Swiss founder, 10 days after the crash, offering half the proceeds from the game to the Brazilian club in addition to making a donation of 250,000 euros ($294,875.00) to help the club's reconstruction.
The Liga side won 5-0 with goals from Gerard Deulofeu, Sergio Busquets, Lionel Messi, Luis Suarez and Denis Suarez.
The players who survived the crash - Helio Neto, Jakson Follmann and Alan Ruschel - were given a separate tribute as they walked out of the tunnel at the Nou Camp after the teams emerged, while volunteers held up a heart-shaped banner in Chapecoense's green and white colours.
"It's an honour to receive Chapecoense for everything they have been through, they can count on our solidarity," said Barca coach Ernesto Valverde before the game, his first at the Nou Camp since succeeding Luis Enrique in June.
"Today is a special day, we are very happy to have you here and we hope it's an experience you never forget," added Barcelona captain Andres Iniesta.