Celebration feted to mark Inner Mongolia's anniversary
On special plaque, Xi says, 'Fulfill a great China Dream together'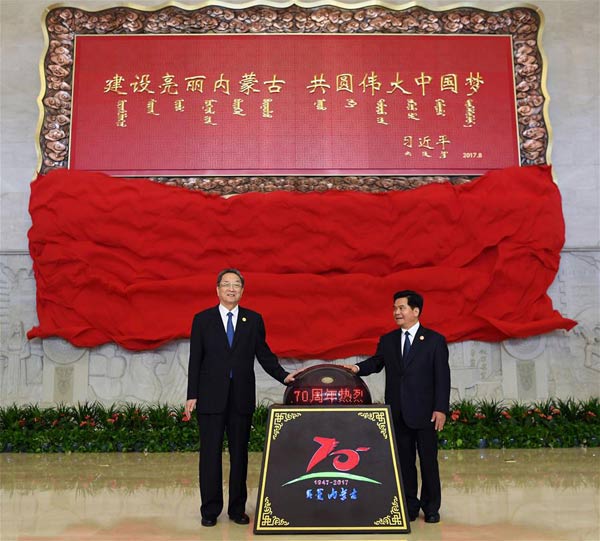 Yu Zhengsheng (L), chairman of the National Committee of the Chinese People's Political Consultative Conference, and Li Jiheng, secretary of the Communist Party of China (CPC) Committee of Inner Mongolia Autonomous Region, unveil a plaque in Hohhot, north China's Inner Mongolia Autonomous Region, Aug. 7, 2017. The plaque with an inscription by Xi Jinping, general secretary of the CPC Central Committee, was presented as a gift to Inner Mongolia Autonomous Region to celebrate its 70th anniversary.  [Photo/Xinhua]
With best wishes from across the country, a delegation led by Yu Zhengsheng, chairman of the National Committee of the Chinese People's Political Consultative Conference, arrived in Hohhot, capital of the Inner Mongolia autonomous region, on Monday.
The 63-person delegation, mainly composed of officials from departments of the Communist Party of China Central Committee and the central government, is to convey congratulations for the 70th anniversary of the autonomous region's establishment.
"Construct a bright and beautiful Inner Mongolia, and fulfill a great China Dream together," President Xi Jinping wrote on a plaque inscribed in Mandarin and Mongolian. It will be hung in the central hall of the Inner Mongolia Museum.
"The words bear the great expectation from the Central Committee of the CPC for Inner Mongolia to have an even brighter tomorrow," Vice-Premier Liu Yandong, deputy head of the delegation, said at a ceremony at the museum dedicating the plaque.
"It speaks highly of the region's rich history and great achievements," she said. "People here have presented an unprecedentedly grand picture in the past 70 years. …Inner Mongolia has a great potential and a glorious mission."
Liu said she expects the autonomous region to play an important role in the country's overall development blueprint and connect with the rest of world via the Belt and Road Initiative.