Russia to start construction of first high-speed railway in 2018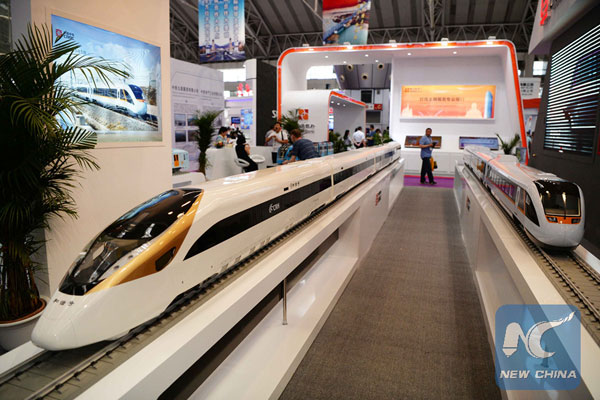 High-speed train models are displayed at the 4th China-Russia Expo held in Harbin, capital of northeast China's Heilongjiang province, June 15, 2017. [Photo/Xinhua]
MOSCOW - Russia will start to build its first high-speed railway linking Moscow and Kazan in 2018, said Alexander Misharin, first vice-president of Russian Railways, on Wednesday.
The design of the high-speed railroad will be completed by the end of 2017, he said at a forum.
In November 2016, Russian Railways President Oleg Belozerov said the rail link is planned to enter service by 2022.
The 770-kilometer-long railway will cost about 1.3 trillion rubles ($22.4 billion). The high-speed trains will run at a maximum speed of 400 kilometers per hour, cutting the travel time from the current 14 hours to 3.5 hours.
The Moscow-Kazan railway is expected to be part of a high-speed rail line connecting Beijing with Moscow in the future and facilitate economic integration along the route.
Kazan is the capital of the Republic of Tatarstan in European Russia and one of the country's industrial and economic centers.