Two arrested over Barcelona attack not the van drivers: police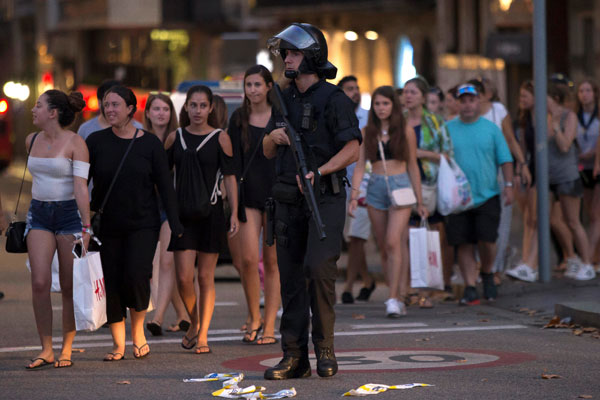 Police evacuate people after a van crashed into pedestrians near the Las Ramblas avenue in central Barcelona, Spain August 17, 2017. [Photo/Agencies]
MADRID - Two men arrested after a van attack in Barcelona which killed at least 13 people on Thursday were connected to the incident but neither was the driver of the vehicle, police said.
Police confirmed that another man who ran over two officers at a checkpoint in Barcelona was shot dead, but added that it did not appear that the incident was linked to the van attack.
The driver of the van which mowed people down on the busy Las Ramblas avenue left the vehicle on foot and did not appear to be armed, a Catalan police official told a news conference.
They said that one of the two men arrested was Moroccan and the other was from the Spanish enclave of Melilla in North Africa. They were arrested in two different towns in the region of Catalonia, Ripoll and Alcanar.
Separately, police said that the van attack appeared to be linked to an explosion at a house in Alcanar in the early hours of Thursday in which one person died and another was injured.
REUTERS