UK PM promises cash aid for tower fire survivors as anger mounts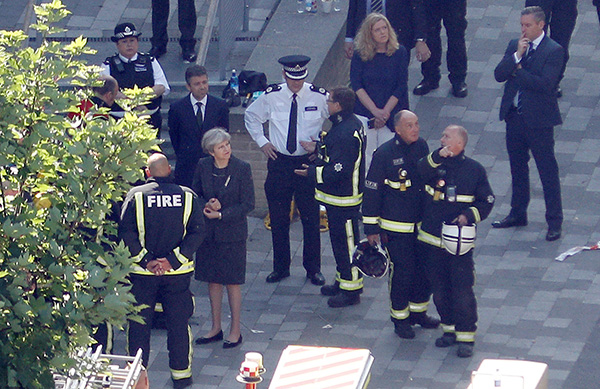 Britain's Prime Minister, Theresa May, visits the scene of a tower block which was destroyed in a fire disaster, in north Kensington, West London, Britain June 15, 2017. [Photo/Agencies]
LONDON - British Prime Minister Theresa May on Sunday afternoon responded to mounting public anger and announced wide and detailed support for the survivors of the Grenfell Tower fire tragedy.
May has been under increasing pressure since the extent of the tragedy at Grenfell Tower in West London became apparent.
A blaze at the 24-storey concrete social-housing tower in the Kensington district of the city killed at least 58 people, according to the latest figure from the London Metropolitan Police. The figure is expected to rise.
May said in a statement on Sunday afternoon: "As we continue to respond to the needs of the community, our focus is on ensuring that all of those affected by this unimaginable tragedy get the right support as quickly as possible.
"My government will continue to do absolutely everything possible to help all of those affected through the difficult days, weeks, months and years ahead."
May has been increasingly criticized since Thursday when she visited the disaster scene but talked only to senior officials in charge of the rescue efforts.
A further two visits to the area by May were criticized as inadequate, because she did not publicly meet survivors.
May held a two and a half hour meeting with survivors and community leaders on Saturday morning in her Downing Street home, and the announcement on Sunday of detailed plans to help survivors and residents is a response to that meeting.
In a press statement issued on Sunday evening, the survivors and residents who met May on Saturday said: "We are angry about the inadequacy of the response and the longstanding neglect of our buildings by the council and building management.
"We are grateful to the prime minister for listening to us and for the assurances she has given us but now we need to see real action and immediate results with centralised coordination of the relief effort with residents closely involved.
The survivors and residents also called for the government to take a serious look at the "neglect and chronic underfunding of social housing over decades".