UK queen visits London fire volunteers as locals plead for answers
LONDON - Britain's Queen Elizabeth visited residents, volunteers and emergency services at a centre helping those affected by London's tower block fire on Friday, with grandson Prince William promising to return to hear residents' concerns.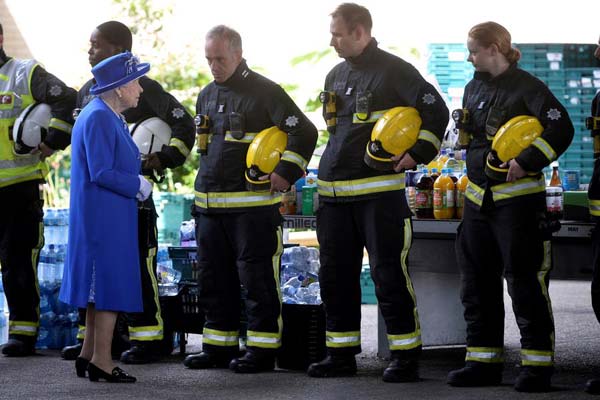 Britain's Queen Elizabeth meets firefighters near the scene of the the fire that destroyed the Grenfell Tower block, in north Kensington, West London, Britain June 16, 2017.  [Photo/Agencies] 
The queen met locals on her way into the Westway Sports Centre which has been turned into a makeshift shelter after the blaze on Wednesday morning engulfed a 24-storey tower block and killed at least 30 people.
As the royals were leaving the centre, they were met with anguished cries for help from a crowd of about 40 people.
One man held a poster of a missing person, and shouted that he wanted to speak to the queen about lost children. The queen waved to the crowd, and then hesitated before getting into her car.
Some continued to shout in desperation prompting William to respond: "I'll come back, I'll come back."
Agencies