London residents demand answers in deadly high-rise blaze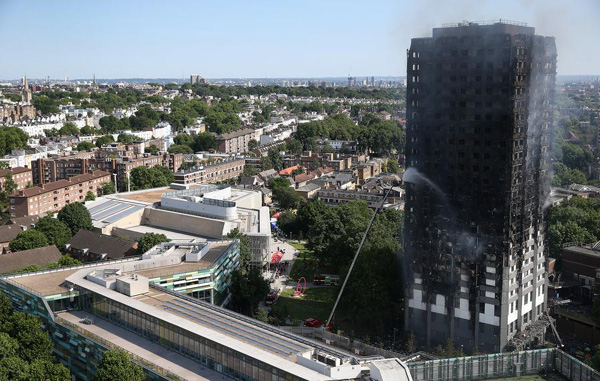 A firefighter directs a jet of water at a tower block severely damaged by a serious fire, in north Kensington, West London, Britain June 14, 2017. [Photo/Agencies]
LONDON — With smoke still swirling around the charred remains of Grenfell Tower in west London, residents and community leaders demanded to know Wednesday how a ferocious fire could have swept through the high-rise apartment block with such speed that it killed at least 12 people.
The anger was particularly strong since activists had warned just seven months ago that fire safety procedures were so lax that only a catastrophic blaze would bring the scrutiny needed to make the building safe.
Fire and police officials have not specified what went wrong, but extensive video footage shows the flames climbing the exterior of the building at a remarkable pace.
"I've never seen a fire like that in my life," said Joe Ruane, the former deputy chief fire officer for US Air Force bases in Britain. "I've never seen that in a residential block."
The 24-story public housing complex is owned by the local government council in the borough of Kensington and Chelsea and was completed in the 1970s. It is managed by the Kensington and Chelsea Tenant Management Organization, which spent 10 million pounds ($12.8 million) refurbishing the building over the last two years.
The renovation project included installation of insulated exterior cladding, double-glazed windows and a communal heating system. Investigators need to look at what materials were used in the project and who approved their use, Ruane said. But he said the speed with which the fire spread suggests that more than one fire protection safeguard failed.
"It's not just one thing," Ruane said. "It's multiple issues."