Grief turns to anger as people seek answers for deadly fire in London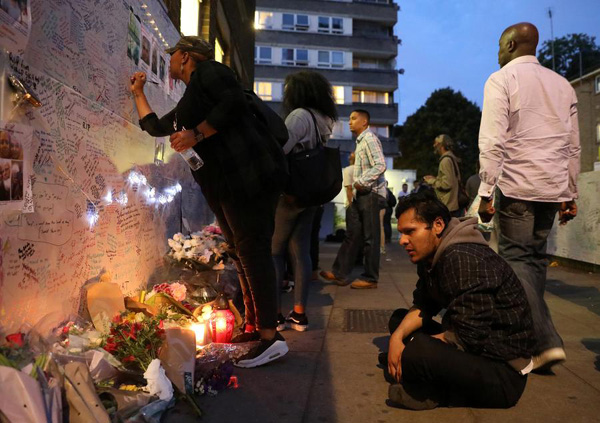 A man looks at messages written on a wall near the scene of the fire which destroyed the Grenfell Tower block, in north Kensington, west London, Britain June 15, 2017. [Photo/Agencies]
LONDON - As rescue teams continued the grim task Thursday of searching the burnt out shell of a London tower block, British Prime Minister Theresa May ordered a full public inquiry into the tragic Grenfell Tower fire.
Her decision came as politicians, community leaders and residents asked a simple question: "How in the 21st century can people perish in their own homes in one of the wealthiest boroughs in Britain?"
The growing number of questions being raised is seeing grief and disbelief turn to anger.
So far it has been confirmed that 17 people died when fire rapidly engulfed a 24-floor residential tower where between 400 and 600 people lived.
With many dozens of people still accounted for, people have been told to brace themselves for the death toll to rise.
To add to the grim reality facing people clinging onto hope a missing loved family member will be found alive, London Metropolitan Police Commander Stuart Cundy said there is a risk authorities may not be able to identify everybody.
Cundy said identifying victims will be very challenging and police will use international disaster victim protocols which include dental records, fingerprints and DNA.
"I really hope the number of fatalities does not reach triple figures," Cundy said.
Thirty people remain in hospital, half of them said to have critical injuries.
In her statement May said: "We need to know what happened, we need to have an explanation of this. We owe that to the families, to the people who have lost loved ones, friends, and the homes in which they lived."
Earlier May visited the scene of the disaster in the London borough of Kensington and Chelsea.
The first victim of the tragedy was named Thursday by the Syria Solidarity Campaign as Syrian refugee Mohammed Alhajali.
Alhajali was with his older brother, Omar, in the flat but lost each other on the way out, says the Syria Solidarity Campaign. The campaign group said Alhajali's brother was rescued by fire crews.
A spokesman at the campaign group posted: "Mohammed was on the phone for two hours with a friend in Syria, waiting to be rescued. He was trying to reach his family in Syria but he could not get connected to them due to the situation in Syria. He had not seen his family for four years.
"When the fire reached his flat on the 14th floor, Mohammed bid his friend goodbye, saying that the fire had reached him. He asked his friend to pass on the message to his family.
"Mohammed undertook a dangerous journey to flee war and death in Syria, only to meet it here in the UK, in his own home. Mohammed came to this country for safety and the UK failed to protect him."
Sadiq Khan, the Mayor of London Thursday called for an interim report into the Grenfell Tower fire to be published within weeks, saying: there are questions that demand answers. We can't afford to wait many years for those answers."
Khan said one of the things the public inquiry will look into is the refurbishment of the tower blocks and whether the tower block was refurbished in a safe way. There are obvious questions about value for money and other questions that will be raised and other questions that demand answers."
The main opposition leader, Labour's Jeremy Corbyn, visited the housing scheme Thursday and spoke to local residents about the Grenfell Tower fire.
He said later: "We must and will do everything in our power to ensure the truth about this tragedy comes out. I feel very angry that it was possible for the fire to spread in the way it did. I feel very angry that so many lives have been lost when the system didn't work. The many residents I met today are very angry too; their concerns about the building were not responded to and their questions were not answered.
"There are thousands of tower blocks around our country. Every single person living in one today will be frightened. They need answers to provide them with security and peace of mind."
Emergency accommodation has been found for families made homeless by the blaze, with a huge community relief effort to meet the needs of people who lost everything in the fire.
London Fire Commissioner Dany Cotton said Thursday the search of Grenfell Tower will be a "very long process".
At a media briefing, she said parts of the building needed structural support to allow a search. Specially trained dogs are being used to help in the search and recovery operation.