Death toll from forest fire raging in Portugal climbs to 62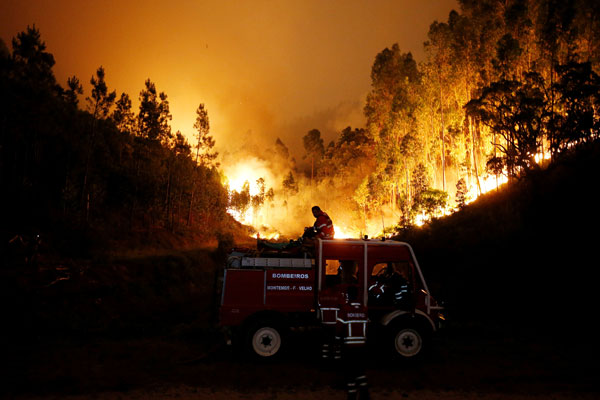 Firefighters work to put out a forest fire near Bouca, in central Portugal, June 18, 2017.[Photo/Agencies]
LISBON - Portugal has declared three days of national morning as the forest fire death toll has reached 62.
Interior Ministry official Jorge Gomes has told state broadcaster RTP that the number of victims from the flames and suffocating smoke has reached 60, while another two people perished in a traffic accident related to the fires.
The death toll has gradually climbed from the 19 initially announced late on Saturday. Gomes said most of the victims were caught in their vehicles on the road.\
Another 59 people have been injured and taken to hospitals, including five in serious condition.
The government has declared Sunday through Tuesday national days of mourning for the victims of a fire "which has caused an irreparable loss of human life."
The government also said that 360 soldiers are joining the 700 firefighters struggling to put out the blaze that started on Saturday.
The blaze on Saturday hit the mountainous area of Pedrogao Grande, 200 km northheast of Lisbon, amid an intense heat wave and rainless thunderstorms. Police said a lightning striking a tree probably caused the fire.
"The smoke cloud is very low, which does not allow helicopters and fire planes to work efficiently ... but we're doing everything possible and impossible to put out this fire," Gomes said, adding that no villages were currently at risk.