No evidence British gov't has Plan B if Brexit talks fail, warn leading MPs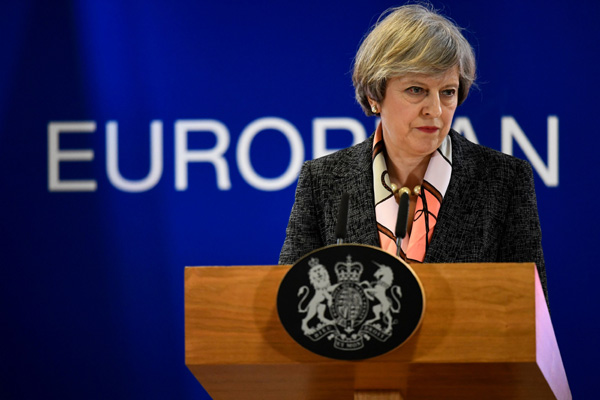 Britain's Prime Minister Theresa May attends a news conference during the EU Summit in Brussels, Belgium, March 9, 2017. [Photo/Agencies]
LONDON - A failure by the British government to have a "plan B" if Brexit talks with Brussels collapse, would be a dereliction of duty, a report by MPs warned Sunday.
Even if Britain and the European Union enter negotiations with goodwill and the desire for a successful outcome, parliament's Foreign Affairs Committee say negotiations could stall, or be derailed, ending with no deal between Britain and the EU's 27 member states.
Committee chair, MP Crispin Blunt, has called for government departments to produce a "no deal" plan, saying anything less would be a dereliction of duty.
Brexit Secretary David Davis insisted in interviews on Sunday that the government is working on a contingency plan in the event of talks with Brussels stalling. But Davis insisted he believed it was not remotely likely that there would be a breakdown between both sides.
The warning comes at the start of what could be the most important 48 hours in generations for Britain.
Speculation among politicians, commentators and most of Britain's Sunday newspapers is that Prime Minister Theresa May will trigger the Article 50 exit process on Tuesday, two weeks ahead of her end-of-month target.
The precise timing will depend on a furious game of political ping-pong to be played out Monday in the Houses of Parliament.
MPs in the House of Commons want to finally approve May's Article 50 Bill to enable Queen Elizabeth II to give royal assent. Until that moment May will be unable to start the official exit process.
The House of Lords has added two amendments to May's Bill, one guaranteeing the rights of EU citizens living in Britain, the other for politicians to be given a meaningful vote on a final Brexit deal.
Under parliamentary processes, the elected House of Commons, can accept the amendments or use its power to force the House of Lords to accept their bill without amendment. That would still leave May with time to trigger Article 50 on Tuesday, but any delays could make it Wednesday.
The Foreign Affairs Committee report is concerned about what happens, once the negotiations start between both sides, a process scheduled to take two years.
The report "Article 50 negotiations: Implications of 'no deal'" is the first select committee report to focus specifically on the implications of a "no deal" between Britain and the EU.
The report said: "The full potential implications of 'no deal' include, ongoing disputes over the exit 'bill', uncertainty and confusion for British citizens in the EU and EU citizens in Britain, and trading on World Trade Organisation (WTO) terms.
Other implications include legal uncertainty in areas not covered by the "Great Repeal Bill", the measure proposed by May to absorb EU law into British law after Brexit, as well as uncertainty over British participation in the EU's common foreign and security policy.
With the message "there is no evidence the government planning for possibility of 'no deal'", chair Blunt said: "The possibility of 'no deal' is real enough to require the government to plan how to deal with it.
"But there is no evidence to indicate that this is receiving the consideration it deserves or that serious contingency planning is underway," Blunt said.
"The government should require each department to produce a 'no deal' plan identifying the likely consequences and making proposals to mitigate potential risks. "