Home / World / Middle East
Iraq says some 40 Iraqis killed in Syria bomb attacks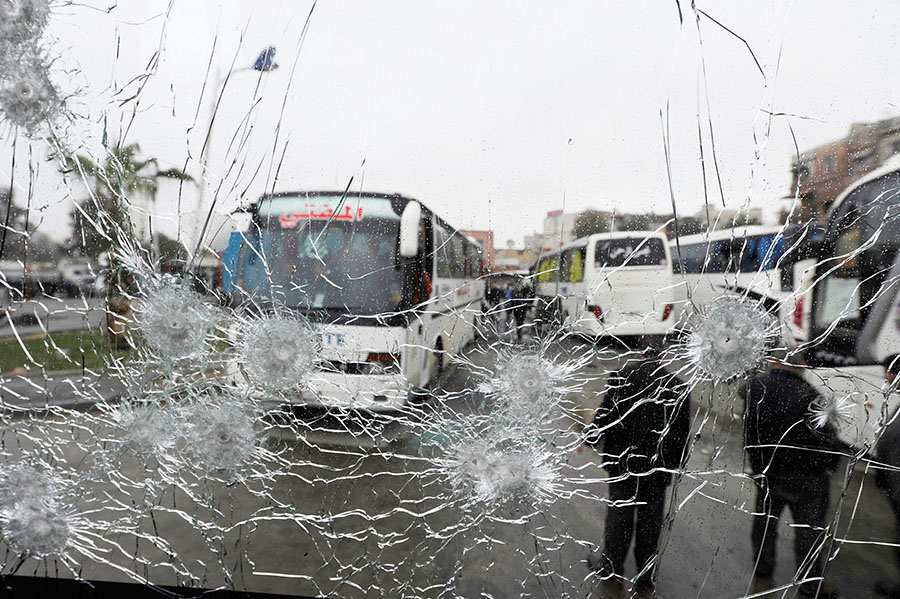 People are seen though a shattered glass window of a bus at the site of an attack by two suicide bombers in Damascus, Syria March 11, 2017. [Photo/Agencies]
BAGHDAD - The Iraqi government on Saturday said that up to 40 Iraqi Shiite visitors were killed and 120 wounded in the deadly bomb attacks in the capital Damascus.
"The terrorist criminal attacks targeted busses carrying Iraqis visiting the holy shrines in the Bab al-Saghir in Damascus, and initial reports indicate that nearly 40 Iraqis killed and 120 wounded," Ahmed Jamal, Iraq's foreign ministry spokesman said in a statement.
A rebel group called Levant Swords claimed responsibility for the bombings, according to Mayadeen TV.
The Iraqi Foreign Ministry is cooperating with the Syrian authorities and will send planes to retrieve the bodies of the victims, that statement said.
The ministry also calls on the international community to denounce the terrorist crime that targeted Iraqi civilians visiting the holy shrines, it added.
Earlier in the day, a Syrian security source said that two explosive devices struck two busses carrying Shiite visitors near the Bab al-Saghir cemetery between the Shaghour neighborhood and Bab Musalla area, leaving at least 40 people killed and some 100 wounded, and most of them were Iraqi nationals.
In Bab al-Saghir cemetery, there are 11 Shiite shrines, usually a visiting spot for Shiite visitors.