Lord Mayor sees crucial role for Beijing in post-Brexit era
Joggers and pedestrians cross Westminster Bridge beside the Houses of Parliament and the Big Ben clock tower in London, UK, July 20, 2016. [Photo/VCG]
Strengthening relations with Beijing is vital for the British capital, amid the uncertainty of Brexit, said the Lord Mayor of the City of London following his visit to China.
Andrew Parmley said he hopes to use his year as Lord Mayor to promote teaching of Mandarin in the United Kingdom's schools and to encourage British tourists to visit China.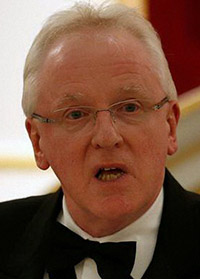 Andrew Parmley, Lord Mayor of the City of London. [Photo provided to China Daily]
"Through understanding comes tolerance and friendship," he told China Daily on Tuesday.
His trip to Beijing, Shanghai, Tianjin and Hong Kong included discussions about financial cooperation, green finance, financial technology and renminbi internationalization. Parmley described the meetings as productive.
"There is great scope for collaboration," he said. "We have experience in financial services, setting up financing vehicles and consultancy, and China has experience in major infrastructure development.
"We hope to be involved in all aspects. Every time I visit a country I say, 'give us your shopping list of things you hope to find to your benefit and we will find a team of financiers in London for it'."
Parmley's embrace of language and culture highlights a difference in his background from previous lord mayors, who have often been drawn from the banking sector. Parmley, who was born in Manchester in 1956, has been head of music at four secondary schools, and is an honorary fellow and visiting professor at the Guildhall School of Music & Drama, a performance arts school in the center of London's financial district.
The Lord Mayor's visit came with London facing significant threats to its financial sector. The Brussels-based think tank Bruegel estimates the City of London could lose 30,000 financial jobs as European Union clients move business worth 1.8 trillion euros ($1.9 trillion) to the continent following the UK's departure from the EU.
Although Chinese financial institutions in London have not publicly talked about how Brexit might affect them, they are also threatened by it.
If the UK loses its passporting rights-the right to sell financial services freely in the EU-Chinese banks may no longer finance European deals through their London branches. Renminbi products issued in London could also become a hard sell for European institutional investors and funds with mandates to only invest in European domiciled assets.
But having a good relationship with China could unleash new opportunities, such as the financing of business deals within countries impacted by the Belt and Road Initiative, an infrastructure plan that extends from Asia to Europe.
The UK government said last year it would invest up to 40 million pounds ($49.04 million) in the China-led Asian Infrastructure Investment Bank, which finances projects in the Belt and Road region.
Meanwhile, the City's financial experts expect London to still have much to offer China, especially through its ability to help internationalize the use of the renminbi.
"As the main hub for the offshore trading of the yuan, London will also be the incubator for modern financial products, including new financial technologies and green finance among others," said Jan Dehn, head of research at London-based Ashmore Investment Management.