EU leaders confirms open, rules-based trade position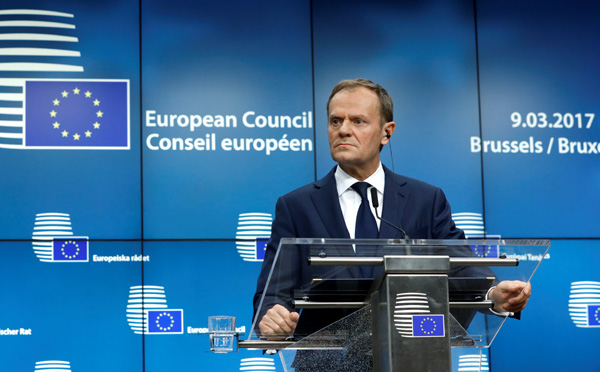 European Council President Donald Tusk takes part in a news conference after being reappointed chairman of the European Council during a EU summit in Brussels, Belgium, March 9, 2017. [Photo/Agencies]
BRUSSELS - The European Union leaders on Thursday confirmed the bloc will uphold an open and rules-based trade position against a backdrop of rising protectionism, European Council President Donald Tusk said.
"Leaders confirmed the EU's unequivocal position on trade. Europe remains the champion of open, rules-based trade. Not least due to signs of protectionism emerging elsewhere," Tusk told a press conference after a EU summit meeting.
Tusk has just won another term as European Council president during the EU's spring summit. He said the EU will "swiftly advance" ongoing negotiations such as with Japan as trade is central to the economic success.
"At the same time we will not hesitate to defend ourselves against unfair trading practices, wherever necessary. We want to set the global standard for free and fair trade," he added.
The leaders during the meeting have discussed the European economy with the president of the European Central Bank.
"Things are getting better, and they are getting better in every member state of the Union. This proves that our economic strategies are on the right track," Tusk said.
He underlined that job creation, as the best means to tackle inequality and expose the myths of the populists, is and will remain the EU's priority.