Amina Mohammed sworn in as UN deputy secretary-general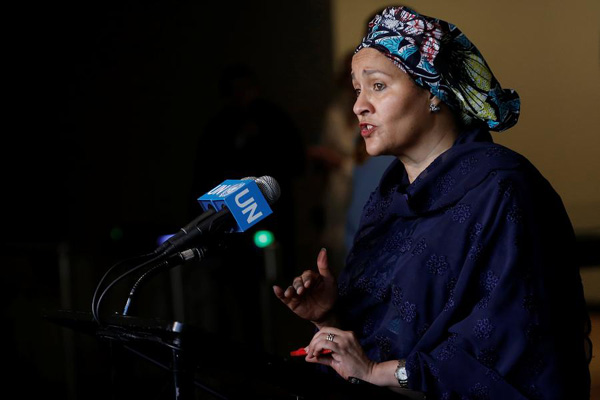 United Nations Deputy Secretary General Amina Mohammed of Nigeria speaks to reporters after she was formally sworn-in to the post at United Nations headquarters in New York, US, February 28, 2017. [Photo/Agencies]
UNITED NATIONS - Nigeria's former Minister for Environment, Amina Mohammed, was officially sworn in as deputy secretary-general of the United Nations on Tuesday.
In a welcoming speech, UN Secretary-General Antonio Guterres said that he was extremely happy and proud that she had accepted to serve with him.
Mohammed spoke to the press Tuesday morning that she would focus primarily on helping the secretary-general to reposition sustainable development at the heart of the United Nations.
In her first engagement, Mohammed declared open the 2017 Economic and Social Council (ECOSOC) Segment on Operational Activities for Development.
Mohammed resigned from Nigerian Federal Executive Council on Feb 24. Previously, She was a key player in the Post-2015 development process, serving as a special adviser to UN Secretary-General Ban Ki-Moon on post-2015 development planning.
Mohammed became only the second African woman to be appointed to the role of deputy secretary-general of the UN. The first one was Tanzania's Asha-Rose Migiro who served in the role between 2007-2012 under Ban Ki-moon.