Dutch-Turkish tension rises as Turkish minister stopped in Rotterdam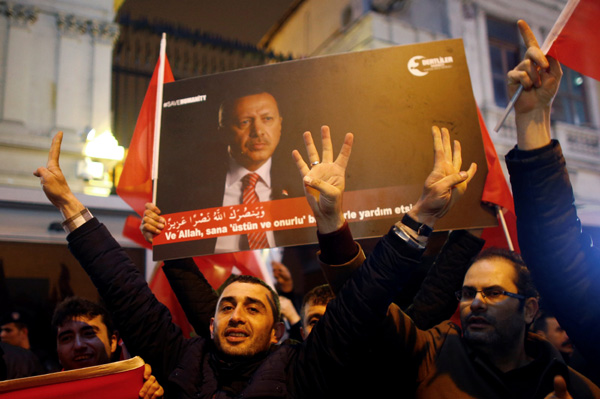 People, holding a banner with a picture of Turkish President Tayyip Erdogan, shout slogans during a protest in front of the Dutch Consulate in Istanbul, Turkey, early March 12, 2017. [Photo/Agencies]
THE HAGUE -- The diplomatic tensions between the Netherlands and Turkey rose on Saturday night after a convoy of Turkey's Minister of Family and Social Policies Betul Sayan Kaya was halted for hours close to the Turkish General Consulate in Rotterdam.
Kaya wanted to visit the Turkish consulate to speak at a rally for a "yes" vote in the forthcoming constitutional referendum in Turkey.
Earlier on Saturday, the Dutch government had withdrawn the landing rights for the plane of Turkish Minister of Foreign Affairs Mevlut Cavusoglu, who had the same plan.
Kaya entered the country at the German-Dutch border in a convoy by car and drove straight to the consulate in Rotterdam. Near the consulate, her car was stopped by the police.
"The Netherlands is violating all international laws, conventions and human rights by not letting me enter Turkish Consulate in Rotterdam," the Turkish Minister stated through twitter.
The support of Turkish-Dutch citizens, holding Turkish flags, near the consulate grew to hundreds of people during the evening.
Around 10 p.m. local time, the Dutch military police started to clear some streets, without major incidents occurring so far, although Dutch national broadcaster NOS reported a rising tension.
The Turkish government planned to campaign in the Netherlands, as in other European countries, to urge Dutch citizens with the Turkish nationality to vote for a stronger position for Turkish President Recep Tayyip Erdogan.
The Dutch government, citing "the public order was at stake", objected the campaign by Turkish officials and had made several attempts to prevent them from coming.