British gov't urged to safeguard rights of EU nationals in Britain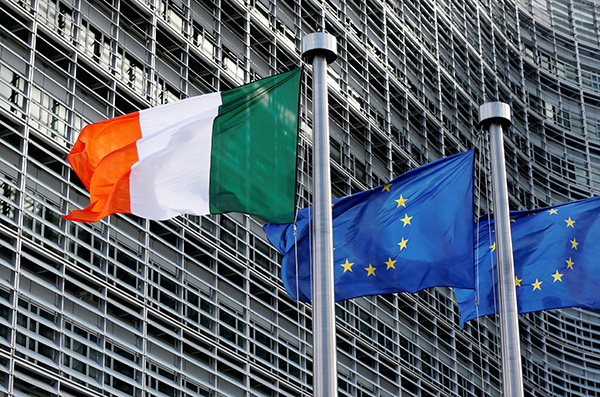 Irish and European Union flags are pictured outside the European Commission headquarters in Brussels, Belgium, February 23, 2017. [Photo/Agencies]
LONDON - A committee of politicians in the House of Commons Sunday called on British Prime Minister Theresa May's government to make a unilateral decision to safeguard the rights of 3.2 million nationals from EU countries living in Britain.
The cross-party Exiting the European Union Committee unanimously agreed in its report that May's government should act now.
The Members of Parliament (MPs) called on the government to ensure British nationals already residing in other EU countries, and EU citizens already living in Britain, do not lose their rights to healthcare and pensions after Brexit.
Veteran Labour MP Hilary Benn, who chairs the committee, said: "EU citizens who have come to live and work here have contributed enormously to the economic and cultural life of the UK. They have worked hard, paid their taxes, integrated, raised families and put down roots."
"They did not have a vote in the (EU) referendum, but the result has left them living under a cloud of uncertainty. They are understandably concerned about their right to remain, and their future rights to access education and healthcare," said the MP.
"Equally, Brits who live and work on the continent are worried about their right to work and access healthcare after Brexit."
"EU nationals in the UK and UK nationals in the EU are aware of the forthcoming negotiations, but they do not want to be used as bargaining chips.
Although the government has said it wants EU citizens to be able to remain, this has not offered sufficient reassurance that the rights and status that they have enjoyed will be guaranteed. It should now do so," he added.
The committee's findings are not binding on May's government who have said the status of EU nationals in Britain will be given priority once Brexit talks start with Brussels.
Last week, members of the unelected House of Lords agreed by a large majority an amendment to the parliament bill introduced by May to trigger the Brexit process. The amendment aims to guarantee the status of Europeans living in Britain, but it is expected to be dropped next week when the bill returns for a final decision to the House of Commons.
The committee report also called for an overhaul of the process for EU nationals in Britain applying for a permanent right to remain. It said the 85-page application form is not fit for purpose.
Committee chair Benn said: "We were told that at pre-referendum rates of processing, giving residence documents to all potentially eligible applicants using the current system would take the equivalent of 140 years."
The committee has also called on the government to set out how it will establish a new system for immigration to be in place within two years of triggering the Article 50 exit process, and what the rules for EU migrants will be once free movement ends.