EU's Juncker unveils key plans for post-Brexit bloc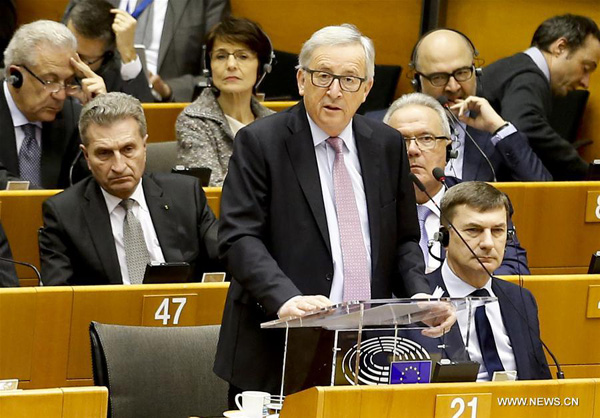 European Commission President Jean-Claude Juncker (front) addresses the "White Paper on the Future of Europe" at the European Parliament, in Brussels, Belgium, March 1, 2017. [Photo/Xinhua]
BRUSSELS - European Commission President Jean-Claude Juncker on Wednesday unveiled his plans for a "new chapter" of Europe, ushering in an era of soul-searching for the bloc hit hard by Brexit.
Addressing the European Parliament's plenary session, Juncker said the 60th anniversary of the Treaty of Rome "will not simply be a birthday of celebration, it will also be a birth moment of the EU at 27."
"Let's turn the page and commence a new chapter in our history," he said.
The white paper laid out five "pathways to unity" for the EU's remaining 27 member states. It was hammered out by the College of Commissioners on Wednesday after a spate of debates, seminars and meetings that have been taking place since Feb 22.
The white paper set out five scenarios for the EU in the next decade, each offering a glimpse into the potential state of the EU.
The first scenario, titled "Carrying On," envisages the EU27 focusing on delivering its positive reform agenda in the spirit of the Commission's new start for Europe from 2014 and of the Bratislava Declaration agreed by all 27 member states in 2016.
The second scenario foresees an EU with "nothing but the single market."
The third scenario, titled "Those Who Want More Do More," would see the EU 27 member states proceeding as it is now but with willing member states doing more together in specific areas such as defense, internal security or social matters.
The fourth scenario, titled "Doing Less More Efficiently," envisages the EU27 focusing on delivering more and faster in selected policy areas, while doing less where it is perceived not to have an added value.
The fifth scenario, titled "Doing Much More Together," foresees member states deciding to share more power, resources, and decision-making across the board.
Asked which scenario is in his favor at a press conference following the address, Juncker said "I'm not going to give a preference to one option over the other, but I would exclude the option according to which the EU would just turn into a single market, nothing else."