Leaders want Europe with different speeds, better integration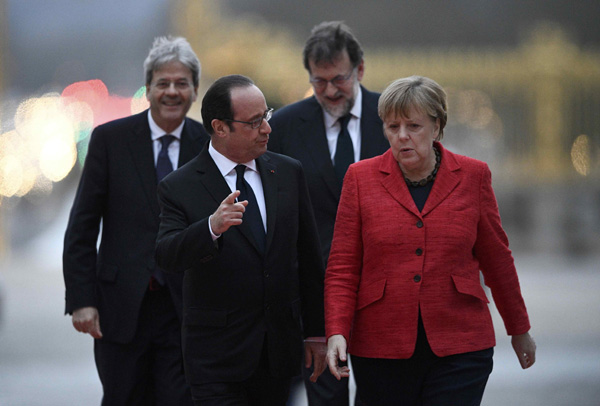 French President Francois Hollande welcomes German Chancellor Angela Merkel, Spain's Prime Minister Mariano Rajoy (2ndR) and Italian Prime Minister Paolo Gentiloni (L) during arrivals for a Franco-German-Italian-Spanish summit ahead of upcoming EU Summit, in Versailles, near Paris, France, March 6, 2017. [Photo/Agencies]
PARIS - Leaders of France, Germany, Italy and Spain on Monday expressed their support for a different-speed Europe during an informal summit in Versailles, southwest Paris.
"Unity is not uniformity," French President Francois Hollande said at the end of the meeting, noting that some member countries of the European Union could go faster and "further in areas such as defense, tax and social harmonization, culture or youth. "
Europe must have the courage to accept that some countries are moving faster than others, said German Chancellor Angela Merkel, adding that it's necessary for Europe to have a key role to face other actors of globalization.
For his part, Spanish Prime Minister Mariano Rajoy has noted that the European Union is a success story which must be well built.
Expressing readiness for better integration, Rajoy hailed European Commission President Jean-Claude Juncker's White Paper which he said would further improve integration in Europe.
As to Italian Prime Minister Paolo Gentiloni, he noted that the 60th anniversary of the Treaty of Rome, which will take place on March 25 in the Italian capital, will aim at pushing ahead integration in Europe.