Fillon says not to quit French presidential race despite probe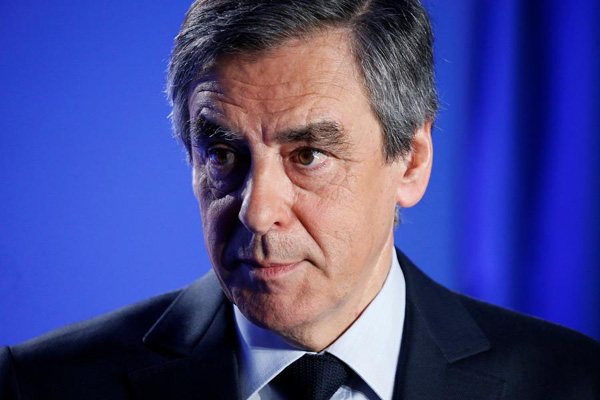 Francois Fillon, former French prime minister, member of the Republicans political party and 2017 presidential election candidate of the French centre-right, reacts as he makes a declaration to the media at his campaign headquarters in Paris, France, March 1, 2017. [Photo/Agencies]
PARIS - French presidential candidate Francois Fillon confirmed Wednesday that he would be summoned on March 15 by the investigating magistrates over alleged fake jobs.
But the 62-year-old conservative candidate said he would not withdraw from the presidential race.
"Only universal suffrage and not a prosecution can decide who will be the next President of the Republic. I will not give in, I will not surrender. I will not pull out," he said.
"My lawyer was informed that I would be summoned on March 15 by the examining magistrate to be questioned," he told a press conference.
It is unprecedented that a summon for questioning be launched a few days after the naming of the judges, without them having studied the case, on the simple basis of a police report manifestly biased, Fillon said.
Fillon is suspected to have paid his wife Penelope for 10 years as a parliamentary assistant without her having done the job, and also to have paid his children for questionable assignments.
A judicial inquiry into charges of the misappropriation of public funds, misuse of assets and the handling of stolen property was opened on January 25.
Last Friday, the charges were enlarged to include "insider influence and breach of mandatory declarations to the High Authority on transparence of public life".
"I will answer the judges' summons ... I will tell them my truth, which is the truth," Fillon said.
At the end of January, he had at first promised that he would withdraw from the race if he were formally charged, before taking a step backward in mid-February.
On Wednesday, Fillon once again presented himself as a victim of the justice system.
"The rule of law has been systematically violated ... The presumption of innocence has completely and entirely disappeared," he argued.
Since the revelation of the "fake jobs" scandal, Fillon has tried to continue his campaign in an always murkier context, but no longer makes appearances other than in closed sites, for fear that he could be met with raucous protests.
Fillon is also experiencing internal setbacks to his campaign, as his European and international affairs representative Bruno Le Maire announced Wednesday that he was resigning.
"I believe in keeping one's word," Le Maire said in a tweet, referring to Fillon's earlier promise to withdraw from the race if placed under investigation.
According to several polls, Fillon would be eliminated in the first round of voting, to the benefit of the the candidate of the extreme right Marine Le Pen and the founder of the En Marche movement Emmanuel Macron.