Park ousted as court upholds impeachment over influence-peddling scandal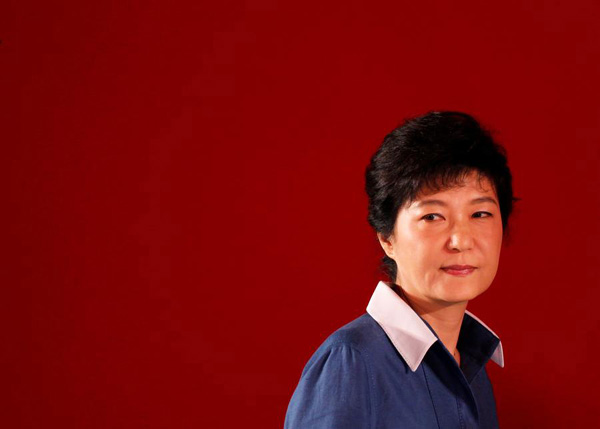 Park Geun-hye attends a national convention of the ruling Saenuri Party in Goyang, north of Seoul August 20, 2012. [Photo/Agencies]
SEOUL - South Korean President Park Geun-hye was ousted as the country's head of state after on Friday the constitutional court upheld a motion to impeach the scandal-ridden leader.
The court's acting Chief Justice Lee Jung-mi read the ruling on the impeachment, broadcast live nationwide, saying it was the unanimous decision of eight justices.
The acting chief justice said the court had made all-out efforts for a fair judgment, hoping their decision would become a base to lead South Korea towards reconciliation and remedy by ending division and chaos.
Lee, who is scheduled to retire on Monday, dismissed a request for retrial from Park's legal team, which demanded a full court's judgement by nine justices. The former chief justice stepped down on Jan. 31 after his term terminated, leaving one vacancy and Lee was nominated as the acting chief justice.
She said there had been no procedural error in the eight-justice court's decision.
The court dismissed Park's violation of press freedom for lack of evidence, saying Park's inaction to the 2014 ferry disaster is not subject to the impeachment judgment. The ferry disaster claimed more than 300 lives, mostly high school students on a school trip to the Jeju Island.
However, the court ruled that Park allowed her longtime confidante Choi Soon-sil to meddle in state affairs from the shadows by leaking many of secret documents and influencing the appointment of government officials.
The ruling said Park also helped Choi seek personal gains by establishing two nonprofit foundations, which were set up with donations from major conglomerates.
South Koreans, who had called for Park's resignation, waved national flags and cheered outside the court in downtown Seoul after hearing the impeachment ruling.
A tearful mother and her daughter were among the anti-Park protesters who held placards that read "Impeachment is Victory of Candlelight Vigil" and "No THAAD."
Park's supporters, who rallied just hundreds of meters away on the street, remained silent and burst into tears following the verdict.
Some of the president's loyalists attempted to break into the court building and clashed with the police.
Local media reported that two of Park's supporters died of unidentified reasons during the rally. One of the dead is in his 70s.
Opinion polls have never changed in recent months, with almost eight out of 10 South Koreans demanding Park's ouster. About 15 percent people have insisted on the rejection or no decision on the impeachment.