Deadly attack in Kabul military hospital draws wide condemnation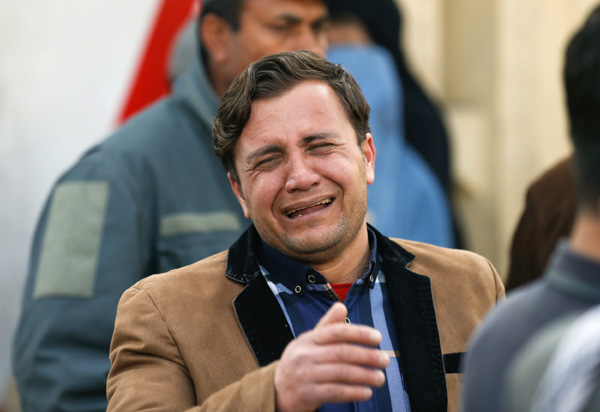 An Afghan man cries outside a military hospital at the site of blast and gunfire in Kabul, Afghanistan March 8, 2017. [Photo/Agencies]
KABUL -- A deadly terrorist attack against a military hospital in Afghanistan's capital of Kabul, for which the Islamic State (IS) outfit claimed responsibility, has drawn wide condemnation.
More than 30 people were killed and over 50 others wounded after four suicide bombers struck Sardar Mohammad Daud Khan Hospital in fortified Wazir Akbar Khan diplomatic district Wednesday morning, the Defense Ministry said in a statement.
President Mohammad Ashraf Ghani denounced the bloody attack as a coward terrorist act and vowed that Afghan government won't talk to terrorists, who are killing the innocent people of Afghanistan.
"According to international humanitarian laws, hospitals are immune from attacks. The Wednesday's terrorist attack clearly evinces that terrorists don't follow any rules and laws," the president said in a statement.
Among the casualties were doctors, patients and civilian staff of the 400-bed hospital, according to the defense ministry statement.
President Ghani also ordered concerned security entities to bring to justice all those involved in the heinous crime besides instructing the health authorities to provide best medical treatment for the wounded.
Afghan government's Chief Executive Abdullah Abdullah and UN Assistance Mission in Afghanistan (UNAMA) also condemned the deadly attack in its strongest terms.
"This morning, attackers reportedly disguised as medical doctors detonated a suicide body-borne IED at the entrance gate to the hospital, after which several attackers armed with AK-47s, grenades and suicide vests entered the facility. The armed attackers proceeded to target patients and medical workers before Afghan security forces ended the assault.