House panels to launch fight in Congress over Obamacare replacement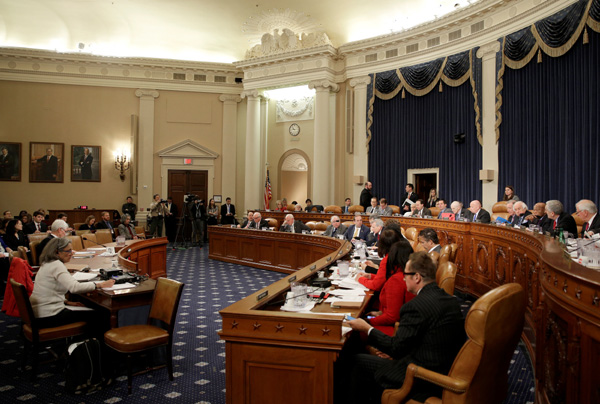 Members of the House Ways and Means Committee sit during the markup of the the American Health Care Act, the Republican replacement to Obamacare, on Capitol Hill in Washington, US, March 8, 2017. [Photo/Agencies]
WASHINGTON - A potentially lengthy US legislative fight over replacement of the Obamacare health law gets underway on Wednesday as two House of Representatives committees begin negotiating over changes to a Republican plan backed by President Donald Trump.
Both Democrats and Republicans are expected to try to reshape legislation that dismantles key provisions of the 2010 Affordable Care Act, Democratic former President Barack Obama's signature domestic policy achievement.
The Republican plan unveiled on Monday would scrap Obamacare's requirement that most Americans obtain medical insurance and replace its income-based subsides with a system of fixed tax credits of $2,000 to $4,000 to coax people to purchase private insurance on the open market.
The plan faces significant hurdles in Congress. Conservative Republican lawmakers and lobbying groups slammed it for looking too much like the Obamacare program they have been trying to kill for years. Democrats criticized it as rolling back health insurance coverage gains for millions of Americans while benefiting the rich by repealing healthcare-related taxes.
Meanwhile, insurers questioned the assumptions underlying Republicans' claims that the plan will reduce premiums, while some experts said it would encourage younger, healthier people to forgo coverage.
On Wednesday, The House Ways and Means Committee, with jurisdiction over taxes, and the House Energy and Commerce Committee, which oversees health issues, will each pursue separate "mark-up" sessions to consider amendments to the plan.
House Speaker Paul Ryan has pledged that he will deliver a 218-vote majority needed for passage in the House. But further changes could be made in the Senate, where Republicans can only afford to lose two votes from their thin majority in the face of unified opposition from Democrats.
Conservative Republican Senator Rand Paul on Tuesday declared the plan "dead on arrival" in broadcast interviews and said he wanted a repeal-only option.
House Ways and Means Committee Chairman Kevin Brady told Fox News Channel late on Tuesday that he would "listen to good ideas to improve it" but said the plan achieves the party's goals.
"It repeals all the taxes, all the mandates, all the penalties, all the subsidies. This is Obamacare gone and there's no arguing about that," Brady said.
But he also said that much of the bill's fate was in the Senate's hands and he was "counting on" Senate Republicans to support it without major changes.
Trump, who praised the Republican healthcare plan but said it was "out for review and negotiation," plans to meet conservative congressional leaders to discuss it on Wednesday, according to a schedule released by the White House.
In an evening Twitter message, Trump said he was "sure" that Senator Paul would "come along with the new and great healthcare program because he knows Obamacare is a disaster!"
Reuters