Trump signs executive order to 'ease burden' of Obamacare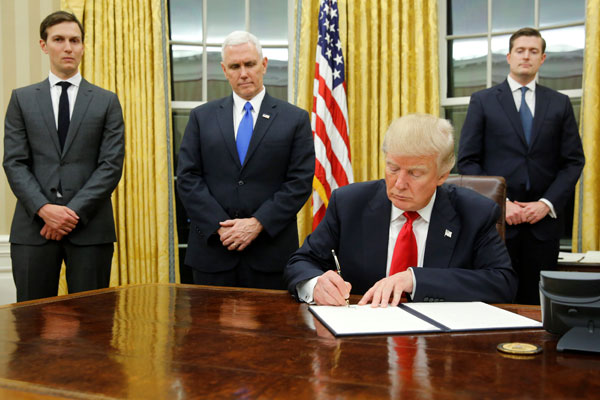 US President Donald Trump, flanked by Senior Advisor Jared Kushner (standing, L-R), Vice President Mike Pence and Staff Secretary Rob Porter welcomes reporters into the Oval Office for him to sign his first executive orders at the White House in Washington, US Jan 20, 2017.[Photo/Agencies]
WASHINGTON -- Hours after inauguration, US President Donald Trump on Friday signed his first executive order, directing federal agencies to "ease the burden" of his predecessor Barack Obama's health care law, or Obamacare.
White House Chief of Staff Reince Priebus also sent out a memo to order all government agencies to immediately freeze regulations until further notified, according to White House spokesman Sean Spicer.
Spicer said that the move was part of the transition to repeal and replace Obamacare, honoring one of Trump's major campaign promises.
Obamacare, officially the Patient Protection and Affordable Care Act, has drawn criticism due to a rise in premiums.
But the spokesman refused to provide details on the order, which was signed by Trump on his first day at the Oval Office. Trump was joined by Vice President Mike Pence and top advisers as he signed the executive order.
Meanwhile, Trump signed confirmation papers for his picks for Defense Secretary James Mattis and Homeland Security Secretary John Kelly. The Senate confirmed their nominations earlier Friday.
Trump was sworn in as the 45th US President at an inauguration ceremony held Friday morning at Capitol Hill, overshadowed by occasional rain and violent protests.