Elaine Chao: 'Sure-footed' for new job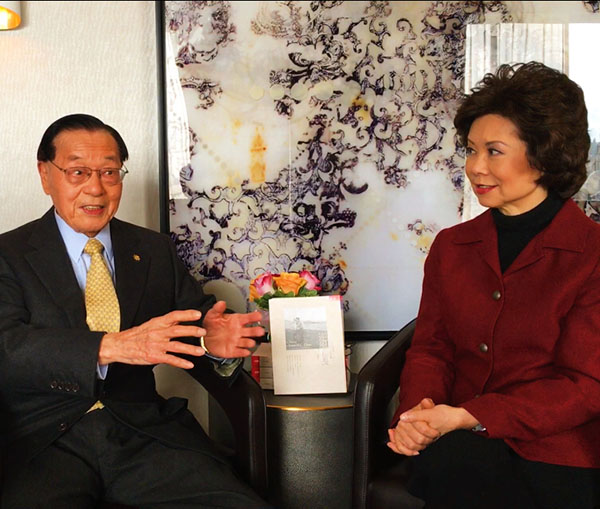 US Secretary of Transportation Designate Elaine Chao (right) and her father, Dr James S.C. Chao, talk to China Daily in an interview in Washington on Thursday. [Photo by Zhou Pai/China Daily]
Elaine Chao, the 18th US Secretary of Transportation Designate, feels she is fully prepared for the challenging job.
While the deteriorating infrastructure and transportation system has become a source of constant complaint in the US, Chao said she is "very sure-footed" for the job.
"There is a great deal to be done. And I am very confident that we will be able to do it," she told China Daily on Thursday, just a day before Donald Trump's inauguration as the 45th US president.
Chao said the top priority of the Department of Transportation is safety. The second is to address the deteriorating infrastructure, which impedes the US' competitiveness. The third is to focus on the future and deal with the emerging technologies that are changing the way Americans work and travel.
She would not say whether or not there were plans for high-speed rails or other major projects and where the funding will come from, saying the White House and Cabinet will discuss these matters once they are in place.
Having served eight years as Labor secretary under President George W. Bush, Chao is no stranger to the Department of Transportation. She was the deputy transportation secretary under President George H. W. Bush.
With her father, Dr. James S.C. Chao, sitting next to her, Elaine was excited that she and her father will be on the platform for Trump's inauguration on Capitol Hill.
She also said she was so happy that her father was able to be with her at her confirmation hearing on Jan 11 before the Senate Committee on Commerce, Science and Transportation.
"This is a special honor. This is not only a special event for her, but also for my family and all overseas Chinese," said the father.
The close family bond was obvious. During the Senate hearing, Elaine, with her father sitting behind her, started by talking about her unique family experience.
Her father grew up in a small farming village of just 10 families in China and then left everything familiar behind to build a better life for the family in the US. "Our family was separated for three long years before we were able to come to America, travelling by cargo ship on an ocean journey that lasted 37 days," she told lawmakers.
"There were many challenges during those early years especially, since we didn't speak English. I didn't receive my citizenship until I was 19 years old," she said.
She was a bit emotional too on Thursday, saying that "during that time, my father suffered greatly, and even when we came, we lived in a small one-bedroom apartment. He held three jobs. We didn't speak English. It was very hard."
She said her father and mother, Ruth Mulan Chu Chao, who passed away in 2007, never gave up.
"They were so optimistic and diligent and determined and passed that on to the children. So as children, we never felt insecure, because we were enveloped in the love of our parents, and the security of knowing they were always there for us," Elaine said.
The family's story is told in the recent book Fearless Against the Wind.
"I loved the title, because my father has been indeed fearless in the face of such adversity," said Elaine, who has five sisters.
She believes that if a young person thinks about moving ahead, the most important thing to have is interest. "You have to be interested. Because if you have interest, then you will have the courage, then the determination to move forward," she said.
Contact the writers at chenweihua@chinadailyusa.com