British gov't reveals tax rises for strong economy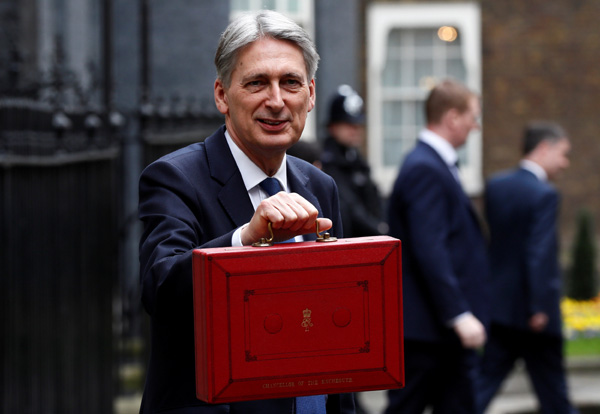 Britain's Chancellor of the Exchequer Philip Hammond stands outside 11 Downing Street before delivering his budget to the House of Commons in London, March 8, 2017. [Photo/Agencies]
LONDON - British Chancellor of the Exchequer Philip Hammond on Wednesday unveiled his spring budget, raising taxes and revealing that Britain's public debt had fallen.
Hammond also said that the British economy is expected to grow 2 percent this year, and that public borrowing will be 16.4 billion pounds (20 billion US dollars) lower than expected at the time of the last economic statement, in the autumn.
The Office of Budget Responsibility (OBR), the official independent statistics body, expects the economy to be the same size in 2021 as before, but the growth will be better in the near-term, and worse later on.
In addition, the expected budget deficit of 16.8 billion pounds in 2021/22 is little changed from the previously anticipated 17.2 billion pounds.
The stronger nature of growth in the wake of the Brexit vote and its continuance into 2017 is also reflected in the public sector borrowing figures, with borrowing for this financial year (2016/17) forecast to be 51.7 billion pounds (down from 68.2 billion pounds previously forecast).
Hammond said the British economy "continues to confound the commentators".
He added: "As we start our negotiations to exit the European Union, this budget takes forward our plan to prepare Britain for a brighter future. It provides a strong and stable platform for those negotiations."
Hammond hit self-employed workers with a tax blow, increasing their health insurance tax by 2 percent for low middle income earners and above. This will affect 2.5 million workers.
Improvements in tax collection would yield an extra 820 million pounds, said Hammond, including a tax on roaming telecom charges outside the European Union (EU) and, from July, a new financial penalty from professionals who use tax avoidance arrangements which are later unravelled by the government tax inspectors.
Hammond also announced that he would provide financial support to small businesses, setting aside 300 million pounds to help with business rates, and supporting 90 percent of pubs with a 1000 pound payment to help with rates.
Hammond's predecessor as chancellor George Osborne had launched the Northern Powerhouse, an initiative to rebuild the cities of northern England, and Hammond in his budget announced that he would launch a Midlands Engine Strategy, to support growth and development in the English midland cities, but further details were not announced.
Hammond said the government put increasing productivity "at the very heart of its economic plan" and put investment funding aside for research in science and technology.
This is Hammond's first and last spring budget. From now on, there will be one budget each year instead of the budget and autumn financial statement which has been the norm for some years. The next budget will be in the autumn.