6 injured in German train station axe attack, 2 suspects arrested: police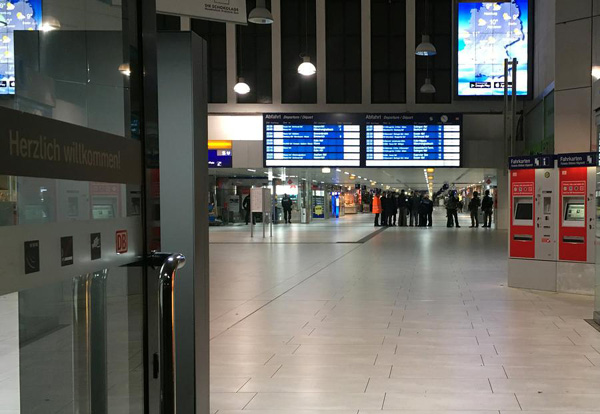 Staff members are pictured inside Dusseldorf train station March 9, 2017 after a man attacked several people at the train station. [Photo/Agencies]
BERLIN - A man armed with an axe mounted attack on people at the main train station in Germany's western city of Dusseldorf on Thursday, injuring six people, police said.
Two suspects in relation to the attack have been arrested, police officers at the scene said, adding that among those who sustained injuries one was seriously injured.
One attacker jumped out from the crowd waving his axe at the people, and blood was spilled everywhere, the local newspaper Bild quoted some witnesses as saying.
The attacker attempted to run to the street but was caught by police officers at the scene while another suspect was also taken at the train station. Their identities and motives were not disclosed.
Federal police have described the incident as an "amok attack."
Federal police's special unit was dispatched to the train station and will search for further fellow perpetrators. Local eyewitnesses said the train station was closed off while a police operation is in progress.
German railway company Deutsche Bahn said via social media that currently train services at Dusseldorf Hbf station were suspended, reminding travelers to look for alternatives or to postpone their trips.
German authorities have beefed up security measures after the Dec. 19, 2016 terror attack on a Christmas market in Berlin that killed 12 people and wounded some 50 others.
In February this year, the police carried out a series of raids in Berlin, Goettingen and Northeim, etc, and several arrests were made. Some of the arrested were reported to have links with the Islamic State group.