FBI investigating shootings of Indian men in Kansas as hate crime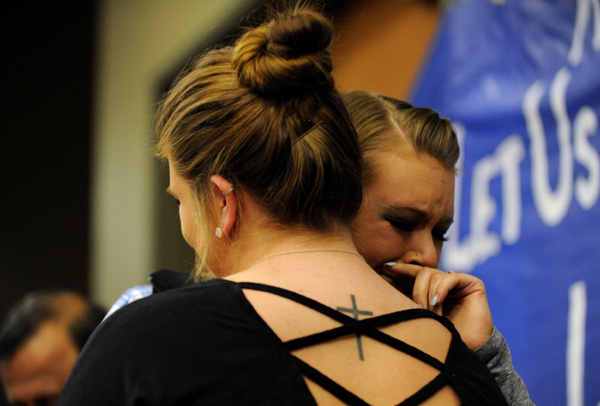 Laura Grillot (L) consoles her sister Maggie, after their brother Ian Grillot was injured trying to stop a gunman who killed Indian engineer Srinivas Kuchibhotla at a local bar, during a vigil at a conference center in Olathe, Kansas, US, February 26, 2017. [Photo/Agencies]
KANSAS CITY - The deadly shooting of an Indian engineer and wounding of his co-worker last Wednesdayat a bar in Kansas is being investigated as a hate crime, the Federal Bureau of Investigation said on Tuesday.
Srinivas Kuchibhotla, who was killed, and Alok Madasani,both 32, worked as engineers at US company Garmin, which makes navigational devices. They were at Austins Bar and Grill in Olathe, a Kansas City suburb, when the shooting soccurred.
Another man, Ian Grillot, was wounded when he chased after the accused gunman, US Navy veteran Adam Purinton, 51, who has been charged in the shootings.
Purinton's attorney, Michael McCulloch, could not be reached for comment.
"Based upon the initial investigative activity, the FBI, in conjunction with the US Attorney's Office and the Department of Justice Civil Rights Division, is investigating this incident as a hate crime," the FBI said in a statement.
The agency said it would work with the Olathe Police Department and state and local partners regarding the investigation.
The Kansas City Star newspaper reported that at least one bystander said Purinton shouted "Get out of my country" before opening fire.
The shooting received international attention and in India some suggested on social media that a climate of intolerance in the United States had been fueled by President Donald Trump's statements on immigration.
White House spokesman Sean Spicer said on Friday that it was absurd to link the killing to Trump's "America First" stance.