Five killed in Canadian Islamic center shooting: report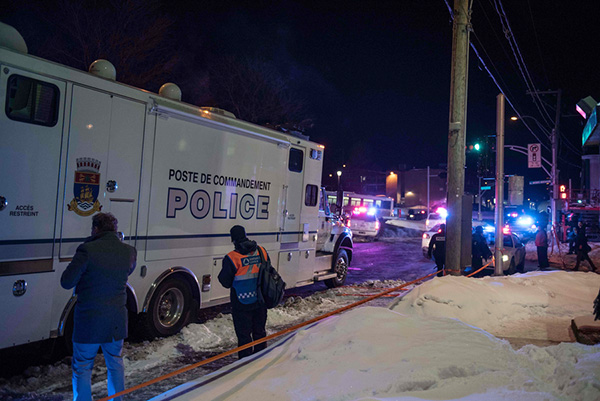 Canadian police officers respond to a shooting in a mosque at the Quebec City Islamic cultural center on Sainte-Foy Street in Quebec city on January 29, 2017. [Photo/VCG]
OTTAWA - Five people were killed after a shooting in Canada's Quebec City Islamic Cultural Center on Sunday, the Canadian Broadcasting Corporation (CBC) reported.
The CBC quoted Quebec City Police as saying that more people are feared wounded when gunmen fired on dozens of people in the center around 8 pm local time (0100 GMT Monday).
A man from the center told the CBC that at least five people were killed, but that information has not been confirmed by police.
Witnesses said two suspects have been arrested and the police has cordoned off the center.
Canadian Public Safety Minister Ralph Goodale tweeted Sunday night that he is deeply saddened by the loss of life. His office says no motive has been confirmed.
Premier of Quebec Province Philippe Couillard tweeted that the province is mobilizing to assure the safety of Quebec City residents.
He added that "Quebec categorically rejects this barbaric violence" and offered solidarity with the families of the victims and wounded.