Islamic group urged to fight extremism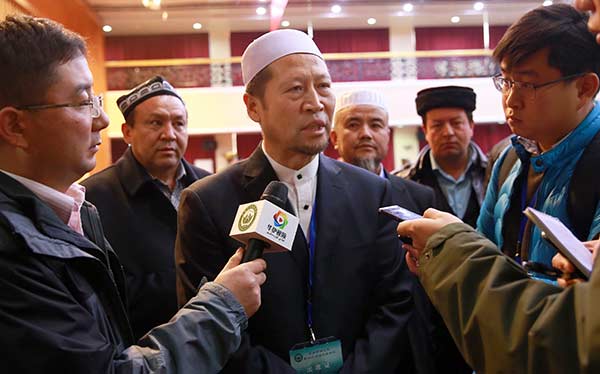 Yang Faming, chairman of the Islamic Association of China, talks to journalists after the association's 10th national congress in Beijing on Monday. ZOU HONG/CHINA DAILY
Official says halal must be correctly understood, abuse of signs to end
Top political adviser Yu Zhengsheng has urged the Islamic Association of China to step up the development and resolutely resist the infiltration of extremism, as the association elected its new leadership at the closing of its national congress on Monday.
Yu, chairman of the National Committee of the Chinese People's Political Consultative Conference, said in a meeting with delegates to the congress that the IAC should also strengthen its self-building and improve its work style.
He said that the IAC's newly elected leadership should inherit and expand the patriotic, law-abiding and tolerant traditions of the religion in China.
The closing of the IAC's national congress, which is held once every five years, saw members of its clergy convening in Beijing to elect its new leadership.
Yang Faming, vice-president of the Islamic Association of the Ningxia Hui autonomous region, was elected president of the IAC. Yang, 51, is also a member of the National Committee of the CPPCC.
The IAC also passed a newly amended constitution, which highlighted the importance of opposing extremism.
Wang Zuo'an, head of the State Administration for Religious Affairs, also urged the IAC to step up the training of clergy and develop more talents that can take up teaching positions at Islamic institutes.
The IAC should attach importance to developing Islamic institutes, improving the quality of teaching and making institutes the front line in opposing religious extremism, Wang said at the congress.
Yang said the IAC will try to curb a trend seeking to expand the Islamic concept of "halal" and better protect the legitimate interests of Muslims.
At the opening of the congress, Wang urged the IAC to lead Muslims to a right understanding on the concept of halal, while adding that the abuse of halal signs must stop.
In China, halal food producers must have their products certified by local ethnic affairs commissions under regulations passed by provincial and regional lawmakers. If they meet the standards, producers are allowed to display a halal logo, designated by their province or region, on their packaging and products.