Home / China / China Photos
Panda pair born in US adapt to new home in Sichuan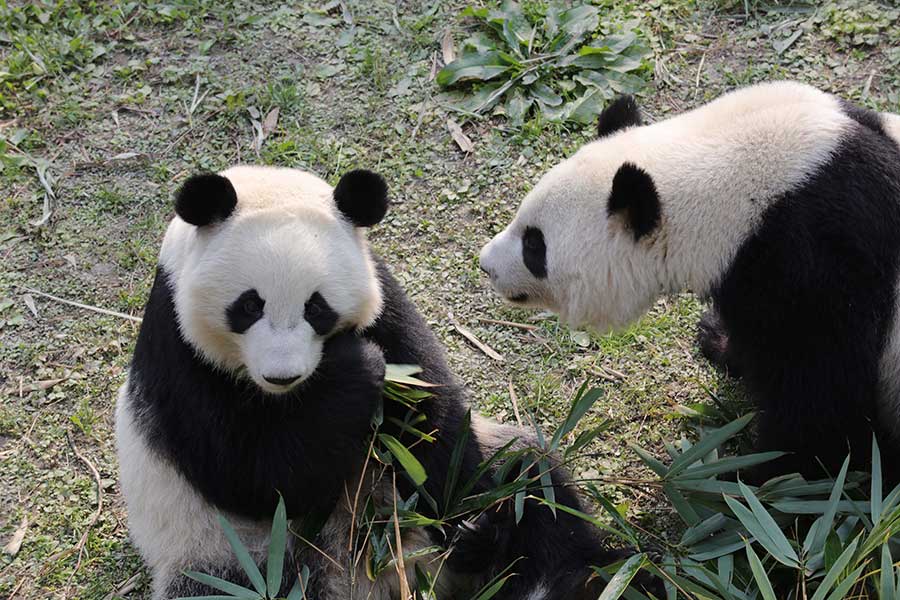 Panda twins Meihuan (left), and Meilun relax at the Chengdu Research Base of Giant Panda Breeding in Chengdu, Sichuan province, Dec 6, 2016. The twins today met the visitors for the first time since their return to Sichuan on Nov 5 from Zoo Atlanta in the United States. [Photo by She Yi/ For China Daily]
Mei Lun hid in the bamboo forest while her twin sister Mei Huan ignored onlookers and ate bamboo slowly in the Chengdu Research Base of Giant Panda Breeding in Sichuan province on Tuesday morning when they met visitors for the first time after a month-long quarantine.
The pair of panda cubs, who arrived at the base from the United States a month ago, have adapted to their new home despite the elder sister's shyness in the face of humans, researchers said.
"Mei Lun and Mei Huan are healthy. They ate a kind of biscuit made in Atlanta zoo and now have buns specially made for pandas," said Wu Kongju, a senior keeper and researcher, at a news conference on Tuesday marking the end of the quarantine.
"Visitors can see them in their den in the Moon Nursery as their quarantine is over," she said. Each day, Mei Huan, who has gained 2 kilograms since her return, eats about 600 grams of buns made of corn, soybean and oatmeal and her droppings are 4.5 kilograms. Mei Lun, who only ate American biscuits, now enjoys Chinese buns and bamboo leaves and her droppings are about 9 kilograms a day.
"Their droppings are normal for sub-adult pandas," Wu said.