Youth in China are taller, fatter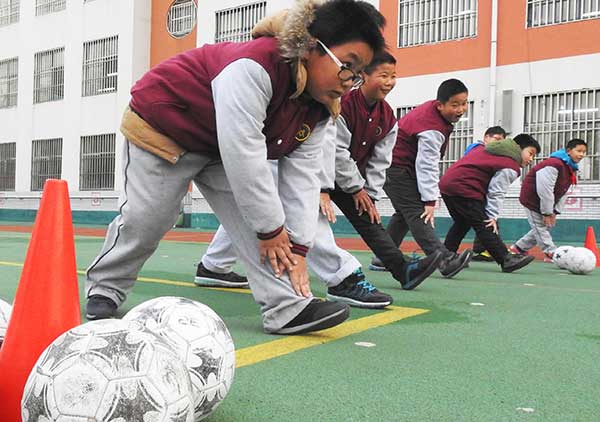 Students attend a soccer training session at a primary school in Lianyugang, Jiangsu province, in November.Geng Yuhe / For China Daily
Changes in lifestyle and reluctance to give up study time are factors
Chinese youth have become taller, but they are also fatter and have worse eyesight, according to a report released on Wednesday.
The average height of kids aged 7 to 18 increased from 2000 to 2014, according to the Annual Report on Development of Youth Sports in China 2016.
The average 18-year-old male stood at 1.72 meters in 2014, up from 1.70 m in 2000, while females grew from 1.58 m to 1.59 m.
However, the obesity rate of males aged 7 to 22 in urban areas increased 25-fold from 1985 to 2014, reaching nearly 15 percent, while males in rural areas increased 45-fold. The rate for females in both rural and urban areas increased 12-fold.
In addition, more young Chinese have had vision problems since 2000, with more than 86 percent of college students affected in 2014.
"That Chinese youth are getting taller is simply because living standards have been improving," said Liao Wenke, a senior official with the Ministry of Education.
"Meanwhile, the problems of obesity and poor eyesight have a lot to do with lack of exercise, which is associated with the heavy study burden and changing lifestyle, such as the popularization of electronic devices at an early age," Liao said.
The report suggests that Chinese students' physical abilities, indicated by speed, strength and lung capacity, among other measures, fell steadily between 1985 and 2005.
It has picked up slightly since the issue was given attention by government and the public.
"But it is still far from the level in the 1980s," Liao said.
"Fear of using up study time" was the top reason for students not to engage in sports activities among 13 choices given, according to the report. More than 30 percent of those aged 13 to 15 have such concerns.
Access to sports facilities also remains a bottleneck in some remote and less-developed areas. Nationwide, sports equipment in 35 percent of primary schools, 21 percent of middle schools and 13 percent of high schools are not sufficient to implement the sports activities required by the nation's school sports plan.
Due to the family planning policy, many children are often spoiled and self-centered, and they also tend to be lonely. As such, youth sports activity in China is more crucial for social interaction and psychological health, the report said.
It also pointed out that the physique of youth in the country is the foundation for its competitiveness at international sports events.
At the Rio Olympic Games, China slipped to third place on the gold medal tally with 28 golds, after the United States and the United Kingdom, the worst performance since 2004.