Trump signs order to vet refugees, citing terrorist threats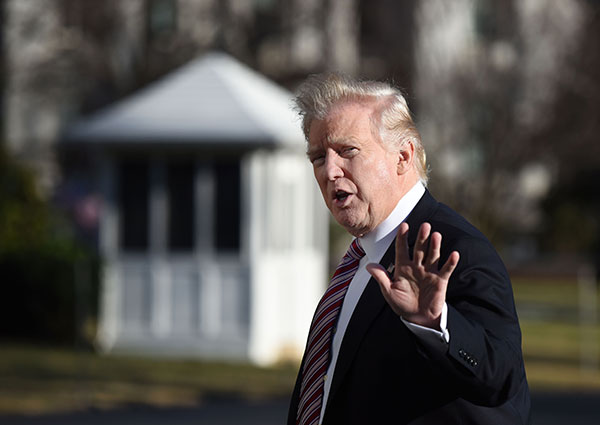 US President Donald Trump waves upon his arrival at the White House from Philadelphia, in Washington DC, the United States, on Jan 26, 2017. US President Donald Trump wants a 20-percent border tax on all imports from Mexico, said White House spokesman Sean Spicer on Thursday. [Photo/Xinhua]
WASHINGTON - US President Donald Trump signed an executive order Friday enacting a vetting process for refugees coming into the United States, in the name of guarding against terrorist threats.
"We want to ensure that we are not admitting into our country the very threats our soldiers are fighting overseas," Trump said, while pointing the finger at the "radical Islamic terrorists" as he signed the document in the Pentagon.
The White House released no details of the document, but media reports suggested that it may include an indefinite ban on Syrian refugees and a four-month ban on all refugees as the US government assesses the level of risks in each country.
Reports have also suggested that the United States would refrain from giving visas to citizens of Iran, Sudan, Syria, Libya, Somalia, Yemen and Iraq, whose governments were on the US list of sponsors of terrorism or countries of concern.
The new measure, Trump said on Wednesday, is not equivalent to the Muslim ban he proposed during the presidential elections.
In the same ceremony, Trump also signed an executive order to beef up the US military.
"I'm signing an executive action to begin a great rebuilding of the armed services of the United States, developing a plan for new planes, new ships, new resources, and new tools for our men and women in uniform," he said.
The move came as multiple figures in the new administration, including the newly appointed Defense Secretary James Mattis and Central Intelligence Agency (CIA) Director Mike Pompeo, believed the present capacity of the US military is insufficient to counter emerging threats to US security and interests worldwide.