Home / World / Asia-Pacific
18 killed in rain-triggered accidents in Pakistan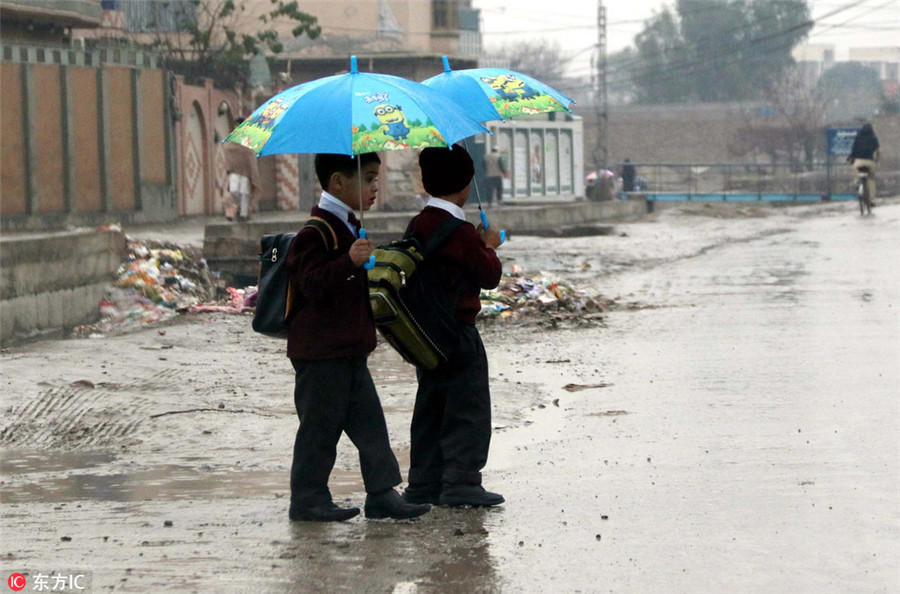 Students hold umbrella over their head to protect themselves from rain during heavy downpour of winter season in Peshawar, Pakistan on Jan 25, 2017. [Photo/IC]
ISLAMABAD - At least 18 people were killed and several others injured in separate rain-triggered accidents in Pakistan over the last two days, local Urdu media reported Wednesday.
Six people of a family were killed after their vehicle was washed away by floodwater in the countrys southwest Balochistan Province on Wednesday afternoon, Samaa News reported. The province received the heaviest rain in the country where 44mm rain was recorded.
Dunya newspaper said that 12 people including women and kids were killed and several others injured in separate incidents of roof collapse and road accidents caused by flash floods on Tuesday.
The killed people included seven in Balochistan who died in separate incidents of road mishap and roof collapse, caused by torrential rains. While, in the countrys northwest Khyber Pakhtunkhwa province, five people were killed and several others injured following their vehicle fall into a ravine due to slippery roads after heavy downpour.
Flight operation at Islamabad airport was suspended on Tuesday for some time due to rainy weather.
The Balochistan government has issued a travel advisory, asking residents to avoid unnecessary travelling in some areas, which are likely to be hit by flash floods. The residents were also advised not to cross seasonal streams by foot or vehicles as the streams are feared to swell due to flood water.
Chief Minister of Balochistan Nawab Sanaullah Zehri has directed the provincial disaster management authority to provide rescue and relief to the affected people. He also put administration in affected districts and towns on high alert to combat any untoward situation.
Local weather office said that heavy downpour and snowfall will continue in parts of the country over the next 24 hours.