16 US state attorneys general call Trump's refugee ban "unlawful"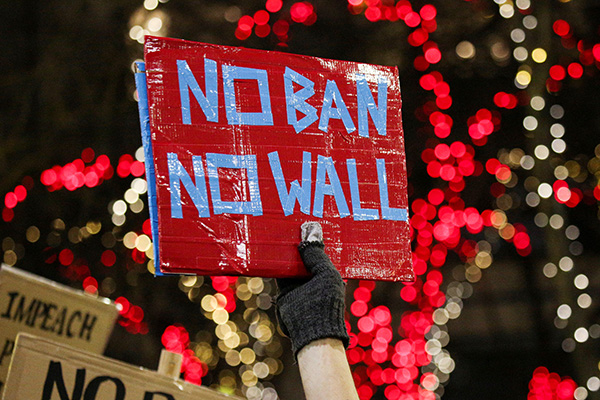 A man holds a sign during a protest held in response to President Donald Trump's travel ban, in Seattle, Washington, US, January 29, 2017. [Photo/Agencies]
WASHINGTON - Attorneys general from 15 US states and the District of Columbia Sunday condemned President Donald Trump's executive order temporarily barring refugees and seven Muslim-majority countries' citizens from entry into the United States, calling it "unconstitutional, un-American and unlawful."
In a joint statement, the 16 state attorneys general, all Democrats, vowed they will quickly act and "use all of the tools of our offices to fight this unconstitutional order and preserve our nation's national security and core values."
"We are confident that the Executive Order will ultimately be struck down by the courts. In the meantime, we are committed to working to ensure that as few people as possible suffer from the chaotic situation that it has created," they said in the joint statement.
"Together we are the chief legal officers for 130M+ people & we won't hesitate to protect their rights," New York Attorney General Eric Schneiderman tweeted.
"Let me be clear -- Discrimination based on national origin is illegal," Oregon Attorney General Ellen Rosenblum said in a statement Saturday.
Other state attorneys general are from California, Pennsylvania, Washington, Massachusetts, Hawaii, Virginia, Connecticut, Vermont, Illinois, New Mexico, Iowa, Maine, Maryland and the District of Columbia.
Under the executive order Trump signed Friday, refugees from all over the world will be suspended from entering the United States for 120 days while all immigration from so-called "countries with terrorism concerns" will be suspended for 90 days.
Countries included in the ban are Iraq, Syria, Iran, Sudan, Libya, Somalia and Yemen. The total population from these countries exceeds 130 million.
The ban sparked chaos across US international airports and continuous protests nationwide in the past two days.
Throughout Sunday, tens of thousands of protesters rallied before the White House, at more than 30 US airports, and in the central downtown of big cities including Boston, Philadelphia, Atlanta, Los Angeles, Seattle and Chicago.
Rushing to the rescue, Trump on Sunday argued that the presidential action is aimed to protect the United States' own citizens and border and is not a Muslim ban as many media reports have described.
"To be clear, this is not a Muslim ban," the newly-inaugurated US president said in a statement, saying there are over 40 different countries worldwide that are majority Muslim that are not affected by this order.
"We will again be issuing visas to all countries once we are sure we have reviewed and implemented the most secure policies over the next 90 days," he said.
Moreover, White House counselor Kellyanne Conway said earlier on Sunday the international travel disruptions in the wake of the ban were "a small price to pay" for the greater security of the United States.
A federal judge in New York on Saturday night granted an emergency stay temporarily halting the removal of people who, though with previously approved refugee applications or with valid visas, had been detained following Trump's order.
Similar rulings were later issued in Virginia, Massachusetts and Washington state, and more US states are now expected to follow suit.