Media Reports: Trump to name Elaine Chao Transportation secretary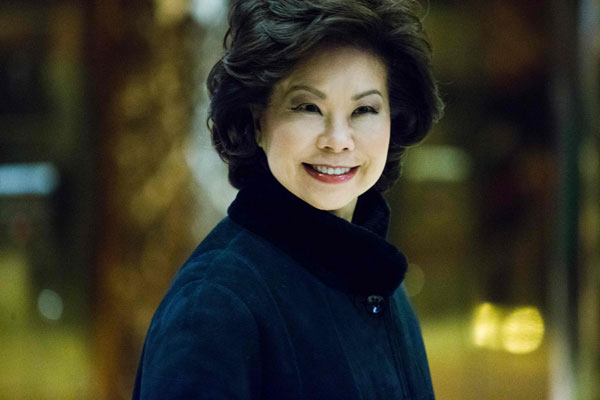 Former US Secretary of Labor Elaine Chao arrives at Trump Tower on another day of meetings scheduled with President-elect Donald Trump on November 21, 2016 in New York.[Photo/CFP]
President-elect Donald Trump has chosen Elaine Chao, the former labor secretary and wife of Senate Majority Leader Mitch McConnell, to be transportation secretary, according to media reports on Tuesday.
She would become the first female cabinet-level appointment by Trump. Born in Taiwan, she moved to the United States as a child.
Chao, 63, served as secretary of labor under President George W. Bush from 2001 through 2009, the first Asian-American woman to serve in a cabinet position.
As secretary of labor, she was the only official in Bush's cabinet to serve with him for all eight years.
She also served as the deputy secretary of transportation under President George H.W. Bush from 1989 to 1991.
Since leaving government service, Chao has held a position as a distinguished fellow at the Heritage Foundation.
She has been married to McConnell since 1993.