2016 sees most asylum seekers arriving in Italy by boat in recent years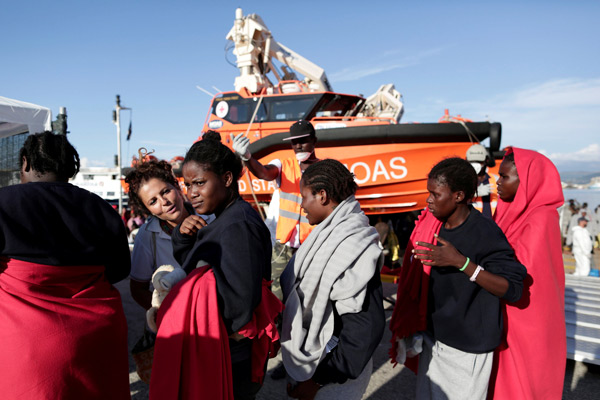 Migrants disembark from the rescue vessel Responder, a rescue boat run by the Malta-based NGO Migrant Offshore Aid Station and the Italian Red Cross, in the Italian harbor of Vibo Marina, Italy, October 22, 2016. [Photo/Agencies]
GENEVA - This year has seen the largest number of asylum seekers that have crossed into Italy by boat in recent years on record, according to statistics released recently by the UN refugee agency and the Italian government.
Since the start of the year, close to 171,000 people have arrived in the European country from North Africa, topping the previous record of 170,000 set in 2014.
The flow of migration in the eastern Mediterranean between Turkey and Greece has been greatly reduced after Ankara stepped up border policing and closed a humanitarian corridor between Greece and Germany.
European countries are using navy frigates to arrest smugglers in international waters. Yet the effort has failed to cut migration in the central Mediterranean between Libya and Italy, while the Italian route has become the main migrant gateway into Europe.
Libya's civil war has weakened the country's law enforcement agencies, thus leaving European governments alone in the fight against illegal migration.
The majority of migrants bound for Italy are fleeing poverty, conflicts and wars in Nigeria, Eritrea, Sudan and Gambia. The Syrian refugees no longer use the Libyan route.
According to the International Organization for Migration and the UN refugee agency, at least 4,690 migrants are confirmed to have died or disappeared in the Mediterranean so far this year.