Thai Crown Prince Vajiralongkorn to be proclaimed as new king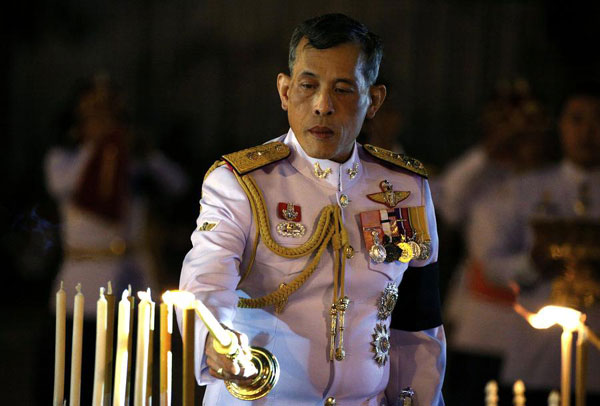 Thailand's Crown Prince Maha Vajiralongkorn attends an event commemorating the death of King Chulalongkorn, known as King Rama V, as he joins people during the mourning of his father, the late King Bhumibol Adulyadej, at the Royal Plaza in Bangkok, Thailand, October 23, 2016. [Photo/Agencies]
BANGKOK - The Thai parliament said on Tuesday that Crown Prince Maha Vajiralongkorn is to become king of Thailand and hailed "long live the new king" during a televised meeting.
Pornpetch Wichitcholchai, president of the National Legislative Assembly, said late King Bhumibol Adulyadej had designated Crown Prince Vajiralongkorn as his heir apparent, thus the parliament formally invited the crown prince to be proclaimed as the king.
At the end of the meeting, all members of the parliament stood up and hailed together "long live the new king."
The crown prince still needs to accept the invitation in order for him to be formally proclaimed as the king.
Revered King Adulyadej died on Oct. 13 at the age of 88 after years of illness.
Vajiralongkorn, 64, was appointed the crown prince by his father in 1972.