Cubans pay heartfelt tribute to Fidel Castro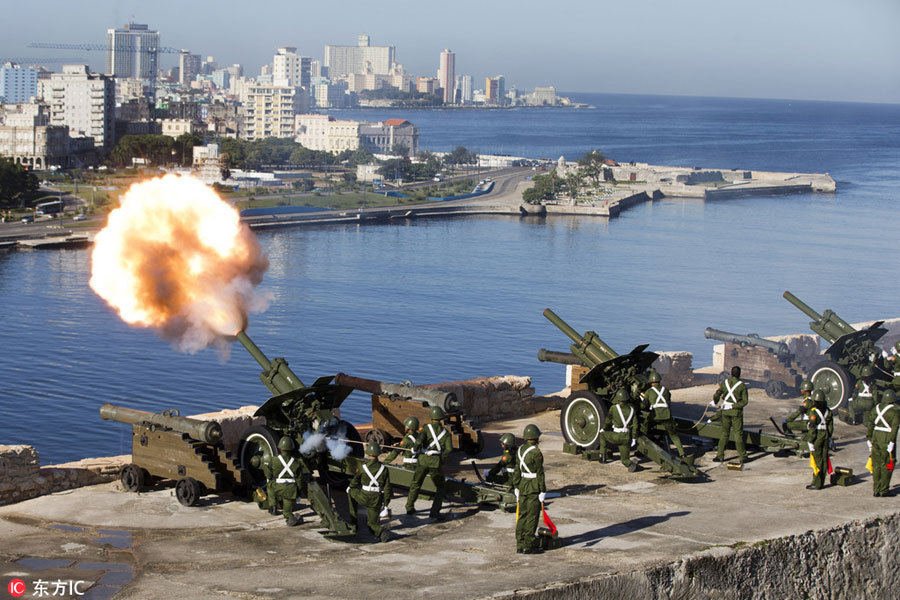 An honor guard fires blank shots honoring the late Fidel Castro in Havana, Cuba, Monday, Nov 28, 2016. [Photo/IC]
HAVANA - Thousands of Cubans on Monday paid heartfelt tribute to the legendary revolutionary leader Fidel Castro in a solemn and tearful ceremony at Havana's Revolution Square.
The tribute is part of a national period of mourning for the leader who ruled Cuba for nearly half a century, and is considered to have continued the legacy of national hero Jose Marti, whose memorial stands in the square.
Average Cubans, as well as government and communist party officials, filed past photographs of Castro dating from the late 1950s, when the young commander led the overthrow of Cuban dictator Fulgencio Batista.
Mourners were silent, tearful or weeping as they paid tribute to Castro on a sunny morning in Havana. Many children, men and women cried, while others acknowledged the late leader with a military salute.
"I have been here since 3 am because I want to salute Fidel one last time. We must continue with great conviction what he did for the Cuban people," retiree Cila Miret told Xinhua.
Miret met Castro in 1960, during a rally the former president held at the same square where today thousands bid him farewell.
"Fidel always wanted to be with the people, and I remember he hugged me and kissed me as he did to hundreds of people that were there that day," she added.