Plane taking Brazilian soccer team crashes in Colombia, only 6 survives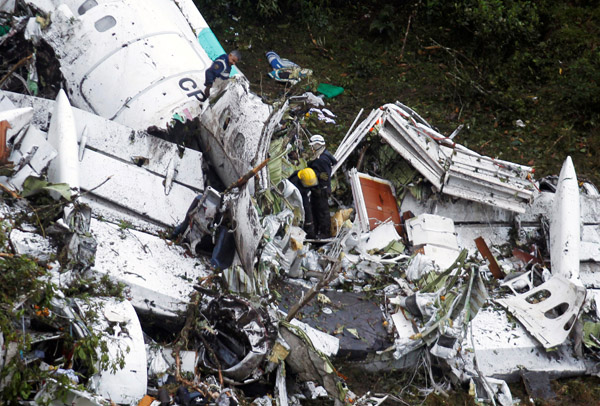 Rescue crew work in the wreckage from a plane that crashed into Colombian jungle with Brazilian soccer team Chapecoense near Medellin, Colombia, November 29, 2016. [Photo/Agencies]
LA UNION, Colombia/ CHAPECO - A charter plane carrying Brazilian soccer team Chapecoense to the biggest game in its history crashed in the Colombian mountains after an electrical fault, killing 71 people on board, authorities said on Tuesday.
Colombia's worst air disaster in two decades killed all but three players on the up-and-coming team from Brazil's top soccer league as it flew to face Atletico Nacional of Medellin in the first leg of the Copa Sudamericana final, South America's equivalent of the Europa League.
Global soccer was stunned with tributes pouring in from major figures including Pele, Lionel Messi and Wayne Rooney.
The BAe 146 plane, en route from Bolivia where the team had a stopover, went down about 10:15 p.m. on Monday night with 69 passengers and a crew of eight on board.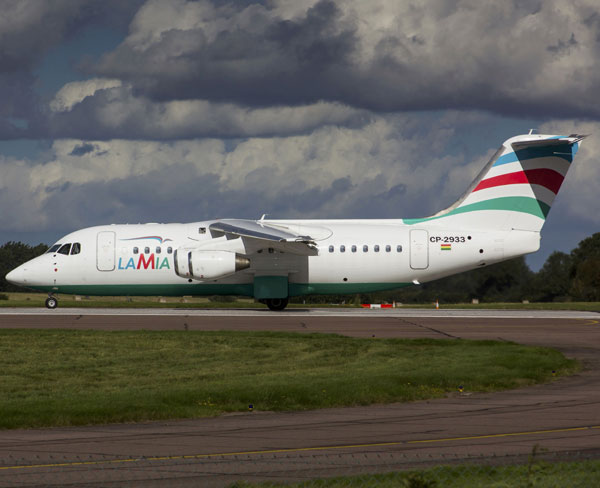 An Avro RJ85 operated by Lamia which crashed on approach to Medellin while carrying 81 passengers and crew including Brazilian football team Chapecoense is seen in a file picture taken in Norwich, Britain on September 25, 2015. [Photo/Agencies]
The aircraft had reported electrical problems and declared an emergency minutes earlier as it neared its destination, Medellin airport officials said.
At the crash scene near the town of La Union in wooded highlands outside Medellin, dozens of bodies were laid out and covered with sheets around the wreckage.
The plane was shattered against a mountainside with the tail end virtually disintegrated. Rain hampered dozens of rescuers as they combed the muddy and forested area.
Colombia's civil aviation authority said there were 71 confirmed fatalities. It identified the six survivors as players Alan Ruschel, Jackson Follmann and Hélio Neto; journalist Rafael Valmorbida; Bolivian flight attendant Ximena Suarez; and Bolivian flight technician Erwin Tumiri.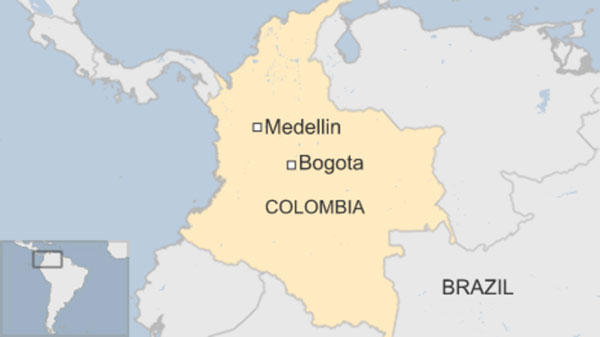 In addition to players, coaches and staff, 21 journalists had been on board the plane to cover the match, Brazilian news organizations said.
Neto and Valmorbida were in "very delicate but stable" condition in intensive care, Dr. Guillermo Molina, head of a clinic treating them, told Reuters. Neto suffered trauma to his head, thorax and lungs, as well as open wounds to his knees.
Ruschel also was in intensive care but in stable condition, Dr. Ana Maria Gonzalez, director of another clinic also attending them, told Reuters. The two members of the flight staff were out of danger and under observation, she said.
Follman's condition was not immediately available.