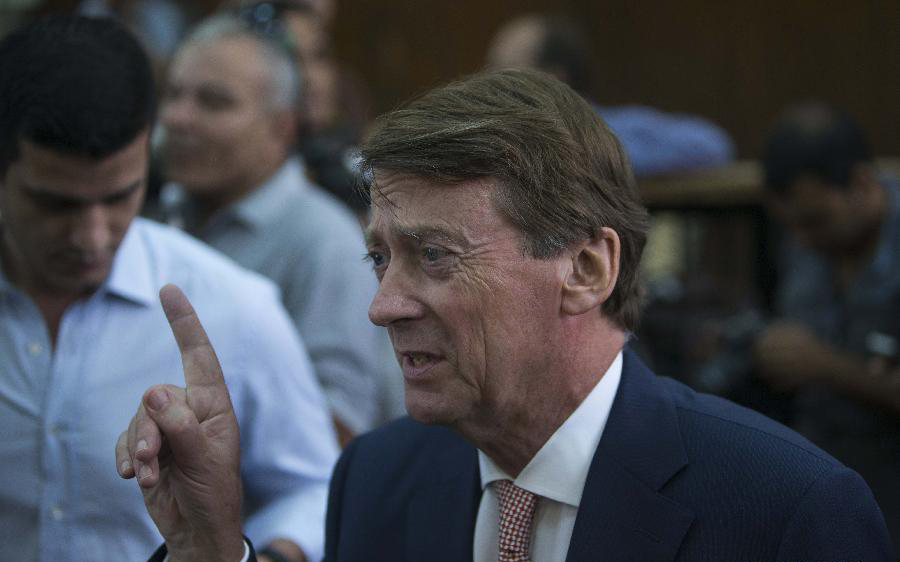 British ambassador to Egypt James Watt talks to press after the verdict of foreign journalists including two British nationals in a court in Cairo, June 23, 2014. An Egyptian court on Monday sentenced three Al-Jazeera journalists, Australian Peter Greste, Egyptian-Canadian Mohamed Fadel Fahmy and Egyptian producer Baher Mohamed, to seven years in jail over charges of aiding the outlawed Muslim Brotherhood. [Photo/Xinhua]
CAIRO - An Egyptian court sentenced three Al Jazeera journalists from seven to ten years over charges for aiding the currently blacklisted Muslim Brotherhood.
The journalists included Australian Peter Greste, Egyptian- Canadian Mohamed Fadel Fahmy and producer Baher Mohamed, who work for Qatri-based Al-Jazeera English TV.
Mohamed also received an additional three-year jail sentence on a separate charge involving possession of weapons.
Another three foreigners including two British journalists and a Dutch journalist were handed down 10-year sentences in absentia.
The journalists were arrested in a security raid on a Cairo hotel room from which they were operating last December. They were then accused of spreading false news and lies that harmed the national interests and supplying money and equipment for 16 Egyptians.
Two defendants including the son of Mohammed el-Beltagy, a senior figure in the Muslim Brotherhood, were acquitted.
Some of the other accused, among a total of 20, were charged of assaulting the public institutions and harming national unity and social order, and jeopardize the lives of citizens.
Other three Egyptian students, who were also charges of providing Al-Jazeera journalists with footage along with other charges, also received seven-year sentences.
All the charges could be appealed.
Immediately following announcing the verdict, Australian Foreign Minister Julie Bishop said the Australian government is shocked at the verdict," adding we are deeply worried that a sentence has been imposed and appalled at the severity of it.