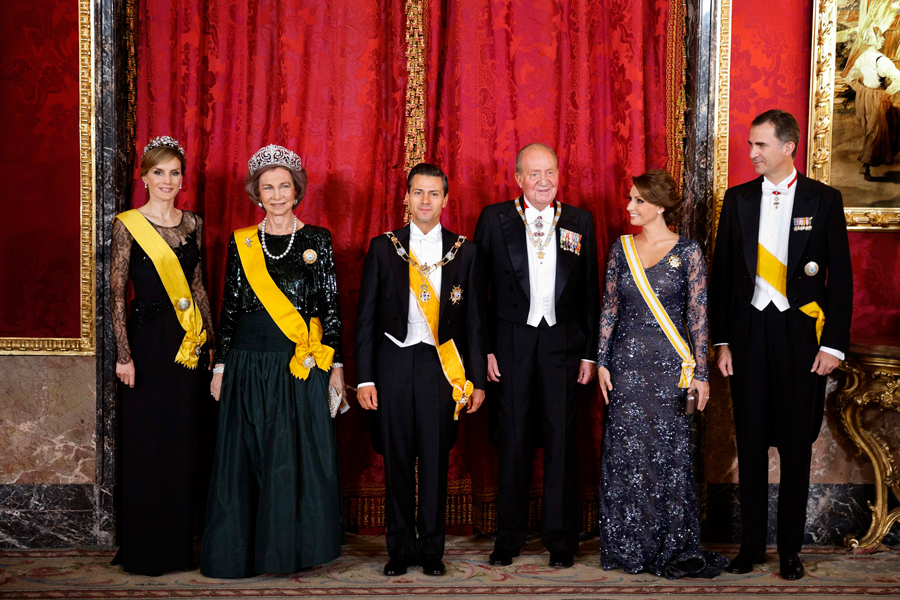 (L-R) Spain's Princess Letizia, Queen Sofia, Mexico's President Enrique Pena Nieto, Spain's King Juan Carlos, Mexico's First Lady Angelica Rivera and Spanish Crown Prince Felipe pose for a picture before a gala dinner at the Royal Palace in Madrid June 9, 2014. Pena Nieto is in Spain on an official two-day visit. [Photo/Agencies]
MADRID - King Juan Carlos of Spain acted as host Monday for the visit of Mexican President Enrique Pena Nieto and his wife Angela Rivero to his residence in the Palacio de el Pardo in Madrid.
The visit takes place a week after Juan Carlos announced his intention to abdicate after almost 39 years as the king, and 10 days before his son Felipe will be proclaimed as King Felipe VI on June 19.
It is the first State visit to Spain since April 2011 when the Emir of Qatar, Sheik Hamad, Jalifa al Thani came to the country. The health problems of King Juan Carlos and the ongoing economic crisis in the following years are the main reason for the three-year gap in state visits, with the pomp and ceremony of this kind of visit thought to be inappropriate for the climate of austerity over that period.
In Spain, state visits are those made following an invitation from the Spanish Royal family and tend to include more protocol than official visits. They also require the presence of the Monarch to welcome, say goodbye and host official engagements for their guests for the duration of the visit.
Pena Nieto has traveled to Spain with the Mexican Foreign, Treasury, Economy and Environment Ministers and the visit will see Spain and Mexico renew with current strategic association agreement, as well as signing a further 20 agreements and declarations.
The visit can also be viewed as a part of Spain's plans to become a stepping off point for Latin American companies looking to establish a foothold in Europe and North Africa, taking advantage of its closeness to these markets and its cultural affinity and shared language with South and Central American nations.
Pena Nieto will meet on Tuesday with Spanish Prime Minister, Mariano Rajoy and visit the Spanish Congress.