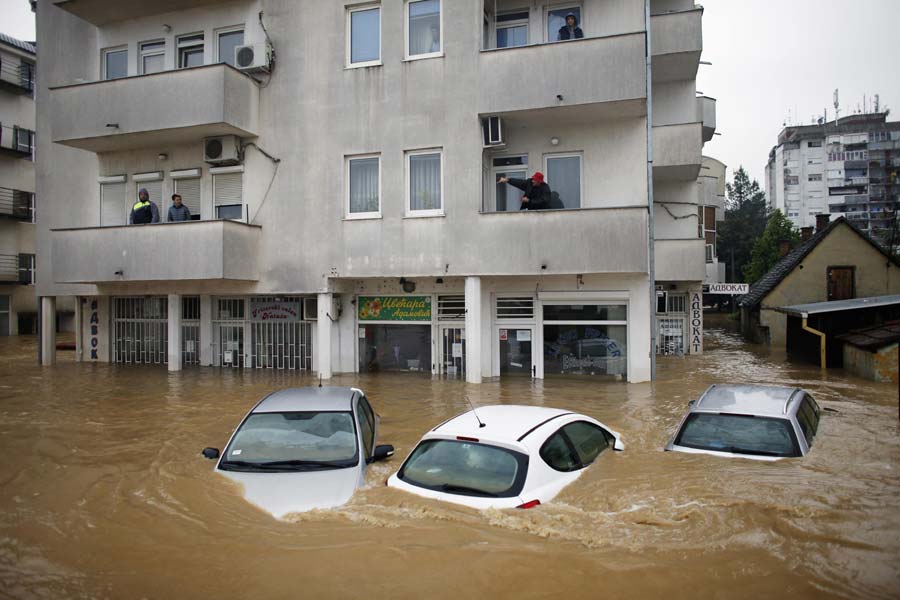 People stand in their apartments as they wait to be evacuated in the flooded town of Obrenovac, east from Belgrade, May 17, 2014.[Photo/Agencies]
OBRENOVAC, Serbia - Seven bodies were pulled from flooded homes in Bosnia and the army rushed to free hundreds of people stranded in a school in Serbia on Saturday during the worst floods to hit the Balkans in over a century.
Soldiers steered huge amphibious vehicles through streets under 2-3 metres of water in the town of Obrenovac, 30 km (18 miles) southwest of the Serbian capital Belgrade, trying to rescue an estimated 700 people crammed into the top floors of the Jefimija primary school.
"The whole town is under water," a Reuters photographer at the scene said. Up to 70 people at a time scrambled onto the vehicles, mainly women and frightened children.
Others, stranded in flooded homes, climbed from roofs and balconies into small boats to be taken to safety.
The town of around 30,000 people, located at a bend in the River Sava, has been the worst hit by days of heavy rainfall, unprecedented since records began almost 120 years ago.
Serbia's energy system was brought close to collapse, with power cut to 95,000 homes and capacity down by 40 percent.
Prime Minister Aleksandar Vucic said there were fatalities in Obrenovac, but authorities would not specify how many until the waters receded and the extent of the damage became clear. Three had been confirmed dead by Friday.
In neighbouring Bosnia, the death toll reached 11, with six bodies discovered on Saturday in the northeastern town of Doboj, and another In the northern town of Samac.
In Sabac in western Serbia, thousands of volunteers joined soldiers, police and firefighters working through the night to build sandbag flood defences against the rising waters of the Sava.
In the capital Belgrade, residents donated food, clothes and bedding. Police appealed for more boats. A steady rain fell on Saturday and more was forecast for Sunday.