Sisi promises real economic growth in 2 years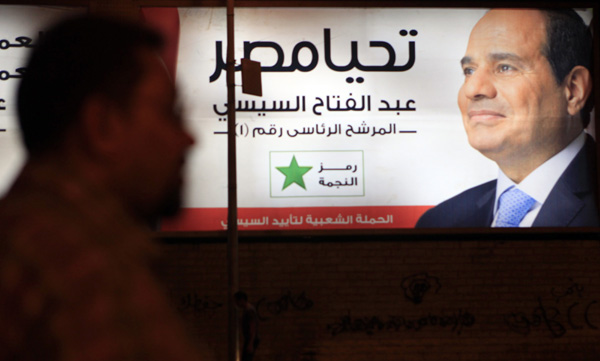 A man walks in front of a campaign billboard of presidential candidate and Egypt's former army chief Abdel Fattah al-Sisi, in Cairo May 6, 2014. [Photo/Agencies]
CAIRO - Former military chief and presidential candidate Abdel-Fattah al-Sisi promised Tuesday that Egyptians would see real economic improvement within two years if he won the upcoming election.
"In two years, the Egyptian citizens must feel improvement. We are in special circumstances and we want to say achievable words," Sisi said in a joint interview aired Tuesday night on two Egyptian private TV channels.
Sisi said his presidential agenda aimed to increase Egypt's usable land by desert reclamation, building road networks and infrastructure to pave the way for major development projects.
"We are targeting 26 cities and tourist resorts, 22 cities for mineral industries, eight new airports, extension of the capital Cairo to reach seaside Ain Sokhna," the military-backed candidate said.
Sisi also promised that, if elected, he would make short-term and long-term plans to deal with the issues of energy shortages, unemployment, deteriorating educational status and inadequate health care systems.
Sisi urged Egyptians to conserve energy use amid widespread power cuts, adding experts were studying the plans for a 10,000-megawatt solar power station.
He called for all kinds of donations and investments, as well as the assistance of the Gulf Arab states, including the United Arab Emirates (UAE), Saudi Arabia and Kuwait, in order to finance his development projects.
The 59-year-old is widely expected to win the May 26-27 presidential poll, in which leftist Hamdeen Sabahi is his only opponent.
Egypt is suffering serious economic difficulties due to three years of turmoil that has witnessed the ouster of two presidents, the long-time ruler Hosni Mubarak and Islamist president Mohamed Morsi.