Sisi in focus as Egyptians vote on constitution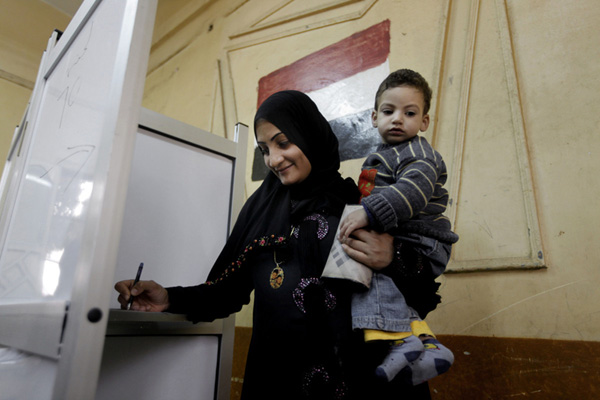 An Egyptian woman carries her son as she votes at a polling station in Cairo, Egypt, Tuesday, Jan. 14, 2014. [Photo/icpress]
CAIRO - Egyptians voted on Tuesday for the first time since the military deposed president Mohamed Mursi on a draft constitution that may set the stage for a presidential bid by army chief General Abdel Fattah al-Sisi.
At least nine people were killed in confrontations between Muslim Brotherhood supporters and police, official sources said. Two small bombs went off, one in Cairo and one in the Nile Delta city of Mahalla, injuring no one.
The Brotherhood, still backing Mursi who is now in jail, has called for a boycott and protests over the draft, which deletes Islamic language written into the basic law approved a year ago when he was still in office. It also strengthens state bodies that defied him: the army, the police and the judiciary.
While a state crackdown has erased many freedoms won by the 2011 uprising against president Hosni Mubarak, anticipation of more stable government sent the stock market on Tuesday to its highest level since his downfall. The main index exceeded its January 2011 peak, in its fourth straight gain.
The referendum is a milestone in the political transition plan the army-backed government has billed as a path back to democracy even as it presses a fierce crackdown on the Muslim Brotherhood, Egypt's best organised party until last year.
A presidential election could follow as early as April.
Echoing a view widely held in Egypt, a senior European diplomat said Sisi would probably announce his candidacy in the next few days - a prospect that will delight supporters but could stir more conflict with his Islamist opponents.
With little or no sign of a campaign against the draft - one moderately Islamist party says its activists were arrested while campaigning for a no-vote - it is expected to pass easily, backed by many Egyptians who staged mass protests on June 30 against Mursi and the Brotherhood before his removal.
"We are here for two reasons: to eradicate the Brotherhood and take our rights in the constitution," said Gamal Zeinhom, a 54-year-old standing in line at a Cairo polling station.
Others cited a desire to bring stability to Egypt after three years of turmoil.