Sisi promoted to Egypt's highest military rank
CAIRO - Egypt's interim President Adli Mansour issued a decree promoting military chief and Defense Minister Abdel-Fattah al-Sisi to the rank of field marshal, the state TV reported Monday.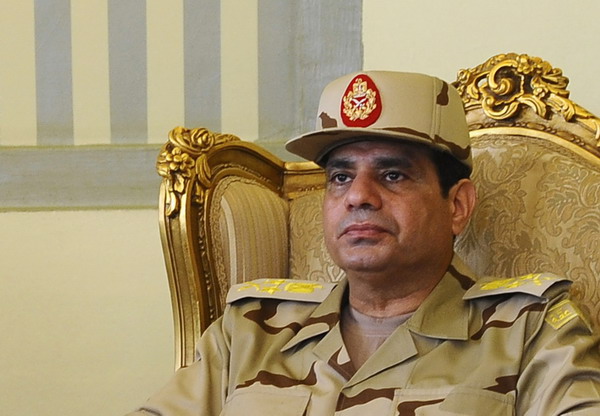 Egypt's Defense Minister Abdel Fattah al-Sisi is seen during a news conference in Cairo on the release of seven members of the Egyptian security forces kidnapped by Islamist militants in Sinai, in this May 22, 2013 file photo. [Photo/Agencies]
"Field marshal" is the highest military rank in Egypt, according to military and strategic experts.
Egyptian military led by Sisi removed former Islamist president Mohamed Morsi in early July 2013 and set forth a roadmap for the country including a new constitution which will be followed by presidential and parliamentary polls.
Sisi's popularity has been growing since Morsi's removal, with a lot of voices calling him to run for president in the upcoming elections.
The military chief neither confirmed nor denied his intention to join the upcoming presidential race. The preparations are supposed to be done within the next three months according to the newly-approved constitution.
On January 11, a few days before a constitutional referendum, Sisi said his candidacy for presidency must be based on "a popular demand and a mandate from the army."
Following the presidential decree of Sisi's promotion, the Supreme Council of the Armed Forces, led by Sisi, is currently convening to discuss various security issues in addition to the popular demands urging the army chief to run for president, official news agency MENA reported Monday.