Sisi quits as military chief to seek Egypt presidency
Egypt's army chief, Abdel-Fattah al-Sisi, announced his resignation on Wednesday as well as a bid for the upcoming presidential elections, which was long expected after he toppled the then-president in July.
"Today, I stand before you for the last time in military uniform," Sisi said in a televised statement, dressed in his field marshal's uniform, sitting behind a desk.
"I decided to end my service as a military chief and the defense minister," he added, vowing that he will fight for an Egypt "free of terrorism."
"I modestly announce to you my bid to run for the presidential elections," he said, noting that he put on and took off his military uniform for Egypt.
Under Egypt's newly established Constitution, only civilians have the right to run for president, so Sisi's resignation from the military and the Cabinet is necessary.
Sisi made the campaign-style speech after a lengthy meeting on Wednesday night with the Supreme Council of the Armed Forces in the presence of interim president Adli Mansour.
"No one can force Egyptians to elect a president they do not want," Sisi said. He also urged other candidates to run for the presidency. "I will be happy to see the victory of any candidate chosen by the people."
Egypt is facing a "weak economy" and "threats from terrorism", the ex-army leader said, stressing that he would not "perform miracles" but promise to "work hard and earnestly" for the country's development and best interests.
Talking about his presidential campaign, Sisi said he will offer a clear vision for establishing "a democratic and modern state".
"If I am given the honor of ruling the country, I promise you that I will achieve together stability, security and hope for Egypt," he said.
In a meeting held in late January, the Supreme Council of the Armed Forces gave Sisi the green light to run for president in response to popular demand, as Sisi's popularity mounted after he toppled Muslim Brotherhood-backed president Mohammed Morsi on July 3 following mass protests against his one-year turbulent rule.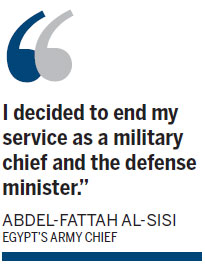 The 59-year-old field marshal had hinted several times that he would join next month's presidential elections if there is a "military mandate and people's demands", rejecting reports that the army would regain power after ousting Morsi, Egypt's first democratically elected president.
The military-backed transitional road map says that elections for the House of Representatives were supposed to be held ahead of the presidential race. However, Mansour, who was installed as interim president by the army, said in late January that presidential polls would come first.
Meanwhile, on Wednesday, the interim leader promoted Army Chief of Staff Lieutenant General Sedki Sobhi to the rank of general, which is seen as a preliminary step to replacing Sisi as defense minister.
Under the Constitution, the president cannot appoint a defense minister without the approval of the Supreme Council of the Armed Forces.
Leftist leader Hamdeen Sabahy is the only candidate aside from Sisi to have officially announced his intention to run for the presidency.
Just a few hours before Sisi's address, clashes between Morsi's student supporters and security forces erupted across Egypt, killing one protester at a Cairo university campus.
Students staged demonstrations after noon prayers to protest Monday's mass death sentence to 529 Muslim Brotherhood supporters in the southern governorate of Minya, the largest such act in the country's modern judicial history.
Protests, clashes and trials of Morsi's loyalists have been a nearly daily occurrence since he was removed. Islamist extremists have also launched attacks against armed forces and their installations.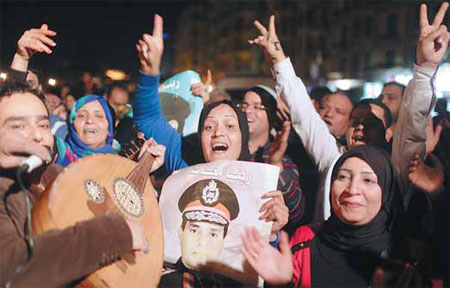 People celebrate after Egypt's army chief, Field Marshal Abdel Fattah al-Sisi, declared his candidacy for the presidential election, in Tahrir Square in Cairo on Wednesday. Sisi, the general who ousted Egypt's first democratically elected leader Mohammed Morsi, declared his candidacy for a presidential election he is expected to win easily. Asmaa Waguih / Reuters
(China Daily 03/28/2014 page12)
Today's Top News
Editor's picks
Most Viewed